Former managing partner takes on a new role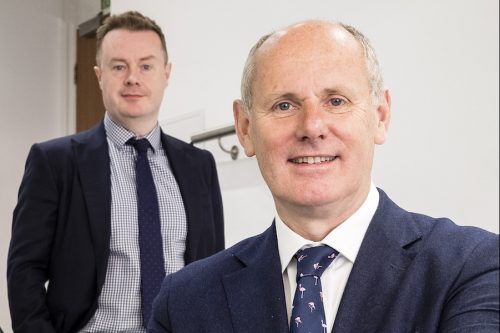 Switalskis Solicitors has appointed Tim Halstead, the former managing partner of Shulmans LLP as chief operating officer, a new role within the firm.
Halstead will work alongside managing director, John Durkan, across its eleven offices throughout the Yorkshire region, bringing his expertise to support the firm's strategic growth over the coming years, having previously supported Shulamns growth from a £1m to an £18m turnover business.
Speaking to TheBusinessDesk.com, he explained, "I have looked at various opportunities over the last few months but was particularly attracted to Switalskis' culture, values and its solid approach to running a business.
"I've known of the firm since it started in the 90s as a single office in Wakefield but it now has 11 offices across Yorkshire and its ambitious. It has the appetite and ability to grow further and that was attractive to me.
"John [Durkan] the MD and I hit it off straight away, as a chartered accountant he brings stable management but also ambitious outside the box thinking.
"In fact as a business they're quite modest, they are doing some fantastic commercial work – which before I joined, I wasn't aware of – with household names." Although he highlights that this is not a big part of the business to date.
When talking about what he hopes to bring to the business Halstead is modest, saying the firm is growing and is comparable in size to Shulmans with over 250 people and a comparable turnover, but that he hopes to bring more senior management support. He outlines that the commercial work is certainly an area he wants to grow but that also he wants to ensure that the business is ready to weather the future by having a balance as work is often "cyclical".
As a result, he states across a business like Switalskis, "you want to have a fairly wide base of work, so that you are not only able to cover all your clients needs but also the business is not overly dependent upon a certain type of work."
It's clear that Halstead is looking forward to the new role and having officially started on Monday is already getting into the swing of things, after a summer of lockdown where he has focused on other activities including his work with Martin House Children's Hospice where is chair of the trustees, as opposed to traditional paid work.
Durkan echoed Halstead's excitement and welcomed his experience, stating: "His knowledge and industry experience will be put to good use with immediate effect. He will work closely with the board and directors on key strategic matters and operational functions to ensure the firm is well placed to capitalise on growth opportunities.
"Tim will also concentrate on developing our staff to reach their full potential, as well as being a sounding board for them. Tim's vast experience of law firm management, his strategic approach and bringing with him a different perspective will be invaluable and puts us in a strong position as we continue to grow and develop our business."