Chancellor reveals new jobs support scheme and cashflow support for businesses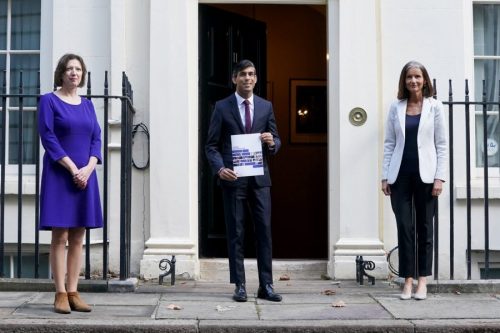 Chancellor Rishi Sunak has revealed his plans to support businesses and jobs through the winter.
He revealed a new jobs support scheme and the relaxation of some tax and loan repayments for businesses.
Sunak, who only became Chancellor in February, acknowledged he "cannot save every business, cannot save every job" but said he wanted to deal with the problems businesses are facing now.
He said: "Our task is to move to the next stage of our economic plan, by nurturing the recovery by protecting jobs through the difficult winter months.
"The primary goal of our economic policy remains unchanged – to support people's jobs. But the way we achieved that must evolve".
The jobs support scheme "will support viable jobs", the Chancellor said, and is being brought in as a follow-up to the furlough scheme which ends next month.
However he said it is "fundamentally wrong" to keep people in jobs that only exist because of the furlough scheme.
The jobs support scheme will require employees to work at least one-third of their hours and to be paid as normal, and the Government and employers will cover the remaining two-thirds.
The scheme can be accessed by all SMEs and by larger businesses that have seen their turnover fall during the Covid-19 crisis, even if they haven't previously used the furlough scheme.
The Chancellor is also extending the self-employed grant "on similar terms and conditions" to the new jobs support scheme.
There were also measures announced to help businesses with cashflow.
Tax bills which had been deferred to March 2021 will no longer need to be paid in full by the end of the financial year, but can now be spread over 11 smaller repayments.
There was also targeted support for the hospitality and tourism sectors. The lower 5% VAT rate will now be extended from January 13 to March 31, 2021.
Bounceback loan repayment periods will be extended from six to 10 years, with repayment holidays available. The Government guarantee for CBILS loans will also be extended to 10 years, giving lenders flexibility.
He also revealed there are plans for a successor loan programme that is set to begin in January.
Following up the Chancellor's announcement, a Treasury spokesman this afternoon said: "Today's measures build on the support already provided to Yorkshire and the Humber, with 315,900 people in Yorkshire and the Humber benefitting from the furlough scheme – representing 13% of those eligible.
"In addition, a total of 3,419 businesses in Yorkshire and the Humber have received a loan through the Coronavirus Business Interruption Loan Scheme (CBILS) – a volume of finance worth £741,647,567 and 73,962 through the Bounce Back Loan Scheme (BBLS) equivalent to £2,185,143,320 volume of finance."
Yesterday Sunak cancelled the Autumn Budget, meaning there will have been just one Budget in more than two years.
In a joint-statement David Kerfoot, chairman of York & North Yorkshire Local Enterprise Partnership (LEP), and Richard Shaw, chairman of the Business Board of the LEP, have both welcomed the extension of the Bounce Back Loan Scheme.
They said: "The economic impacts of COVID are ongoing and with rising numbers across our region, we want businesses to be prepared in advance of any further economic downturn.
"We understand that businesses may be wary to take out additional finance at this unpredictable time. However, this Government scheme is an excellent opportunity for those looking to borrow and we would rather that businesses take the option whilst it is available as a proactive precaution.
"Our concern for the economic health of businesses across York and North Yorkshire is considerable. As is our concern for those individuals and families who at the heart of these businesses and our communities.
"We urge businesses to ask for help, be that for business advice, for financial support, or for support for your own personal well-being at a time when anxiety is a likelihood for the vast majority of business owners."
Meanwhile, the chief executive of Bradford-based Manningham Housing Association called on Sunak not to abandon low wage workers.
Responding to the announcement that employees would have to work a minimum of a third of their normal hours to benefit from the job support scheme, Lee Bloomfield said: "There are estimated to be up to three million workers currently on furlough, including a significant number in Bradford and Keighley where we have around 6,000 tenants.
"There is a real fear that many furloughed employees will no longer have a job to return to.
"The furlough scheme, welcome as it has been, still resulted in a significant reduction in income for families who were already struggling in a low wage economy.
"The Chancellor had nothing to say about how the Government plans to support those workers who now appear to be at grave risk of redundancy.
"If he feels unable to keep them in their current jobs, there is a pressing need to establish job creation schemes and a pathway for workers to retrain.
"Bradford and Keighley cannot afford generations, young and old, being left without a decent income and the opportunity to contribute to the economic wellbeing of their families and wider local communities.
"I fully appreciate Mr Sunak faces unprecedented challenges in the biggest global crisis of our lifetimes, but he needs to do more."