Weekender: Fourth Floor Brasserie review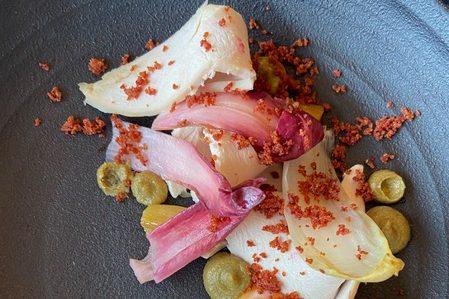 On a Sunday Zoe – my wife to be – and I usually go for the obligatory Sunday mashings to a nice country pub or local establishment. This Sunday however, we opted to visit the Fourth Floor Brasserie at Harvey Nichols, courtesy of Jordan Odu at Pink Gorilla.
Leaving the wax Barbour at home and donning something smarter, we ventured into Leeds' very well known high-end store for a bit of a treat.
Pushing Zoe quickly passed the Chloe and Gucci bags so as not to spend more than a lunch cost that day, we arrived and were taken immediately to our table where Stefan our third year student waiter helped us with a rather nice aperitif, in this case a glass of Prosecco.
The restaurant was bustling with not a table spare, which given the pandemic situation was very nice to see, particularly post 'eat out to help out'.
I've stopped here for afternoon tea before and had a refreshment or two when I've been tired of perusing the expensive luxury goods this place has offered in Leeds since 1996. I've also attended many a networking event here too, but I must admit I've never come here for a three-course restaurant experience.
Why? Because I've always seen it as a posh café in a store if I'm honest, how wrong I was.
I went with the Prix Fix three course set menu and Zoe went off the a la carte menu.
I was immediately jealous of my date for the day, with her poached chicken breast and Serano Ham with poached egg yolk starter (see the main image) versus my pumpkin velouté with charred plaice. Both rather good but I lost that round, as tasting the Serano crumb they essentially lit up the taste buds!
Ordering some wine, I thought I'd go for the 2017 Cote Du Rhone Plan De Dieu, Harvey Nicks own. A perfect choice for my braised ox cheek main and I thought Zoe's duck. A strong wine, the strongest full-bodied Cote Du Rhone I've ever had to be fair and a little too strong for my date and her duck it seemed, so I was left with a bottle and Zoe ordered a nice glass of 2017 Beaujolais villages.
So in round two of the bout of the Prix Fix versus menu.
The Ox cheek was perfect, very soft and delicious. I have a rule, which is if there are cheeks on the menu, order them!
This was served with creamy mash, mushrooms in gravy and chard, perfect Sunday afternoon comfort food and something which I'd expect at a lovely gastro pub in Wharfedale or Sous Les Nez for instance, I didn't expect it to be so good here.
The Duck was served up with figs and little pieces of flapjack delicately placed on the plate but how odd, flapjack and figs with duck? Well, it went together very well and Zoe very much enjoyed it, but the prize here went to the ox cheek without a doubt.
Moving onto round three and feeling nicely fresh, I opted for the dark chocolate and olive oil tart, spiced poached pear and vanilla mascarpone. A nice end to a wonderful meal with it being very rich and luxurious, with the pears providing a softness to the dish, although I'd have preferred a dollop more of mascarpone and not a brush of it to provide the right balance.
My opponent for this course enjoyed the blackberry iced parfait, roasted apples, cinnamon and ginger crumble and it looked like a work of art as presented. So we'll call dessert a draw.
Overall, a very nice afternoon out was had. The food far exceeded my expectations, service was good and the place was alive with a friendly atmosphere.
What's more, I most certainly will be going again for the full restaurant experience, and not just to avoid trawling around handbags and designer shoes!