Coronavirus business update: Latest news across Yorkshire
Hull City Council has issued direction notices to two venues in the city for operating unsafely during the coronavirus pandemic and exposing people to Covid-19 risks.
The Alley, on Cottingham Road, has been ordered to close. And Skippers, on Grampian Way, must now follow safety rules imposed by the local authority or face further action.
Both businesses had been offered support from Hull City Council and were given warnings regarding their practices, but the council says both have failed to improve.
Councillor Mike Thompson, portfolio holder for public protection at Hull City Council, said: "Nobody wants to close businesses. These notices are very much a last resort when every other form of encouragement and engagement has been ignored.
"We are all in the middle of a pandemic. Lives are being lost. We are seeing infection rates rising across the country and more restrictions being introduced by Government on the hospitality industry.
"Hull City Council will simply not stand by and watch a small minority choose to put the safety of our residents and the future of other businesses at risk."
Hull City Council was given emergency powers by Government earlier in July. The powers are only issued if there is considered to be a serious and imminent threat to public health.
These directions are among the first to be used in Hull by Environmental Health, and The Alley is the first business that has been ordered to close.
Thompson continued: "However, the vast majority of businesses in our city have responded to these vital measures, from day one, positively and responsibly.
"We have a responsibility to these businesses to take action against those that have not.
"It's terribly frustrating and disappointing to see a small amount of businesses behaving in such an irresponsible and selfish way."
At The Alley, the issues of concern included very poor social distancing arrangements, management failing to enforce the rule of six, staff not wearing face coverings when serving customers and no effective system for collecting customer details with regards to NHS Track and Trace.
Public Protection officers found that at Skippers customers were failing to safely social distance at the bar area, mixing with other groups and dancing.
They also found that management were failing to put in place adequate safety measures.
Hull City Council will review the conditions imposed every seven days.
Khaled Choudhury, principal environmental health officer at Hull City Council, said: "The operating environment of these two businesses were wholly inadequate and exposed staff and residents to a serious threat of COVID-19 transmission.
"Taking into consideration the way the venues were operating and the recent rise in transmissions across the city in line with the national picture, we concluded this action was needed, especially as the businesses have failed to respond to advice."
:::
Yorkshire based Lightico is weeks away from research to further prove its patented lights – CleanLight – can kill SARS-CoV 2 – the virus that causes COVID-19.
And Lightico's managing director, Mark Garrett, is confident Lightico's CleanLight is going to be key to helping the hospitality industry to keep going during these hugely difficult times.
He said: "CleanLight is proven to kill over 80% of far more robust pathogens than the Corona Virus.
"However, UK-based field trials and lab tests are underway to specifically prove the product is effective against the Corona Virus – with results due imminently.
"CleanLight uses LED lighting panels that harness the power of Titanium Dioxide (Ti02) to clean the air of microbes, toxins and odours.
"Our Ti02 coated LED lighting panels generate photocatalytic oxidation which neutralises airborne pathogens in a 7.5m2 area. Thus, instantly creating an anti-microbial, anti-toxin, and anti-odour zone.
"The science bit is hugely clever and we're thrilled to be first to the market with CleanLight. It's actually a really simple product to install and we're confident will be an integral part in the fight against Covid.
"You install the light as you would any other lighting system, then, whilst they are on, they are killing the viruses and bacteria in the air – including Sars-Cov-2."
Lightico's inventor Paul Reynard has developed this first to the market product.
He said: "About 10 years ago I had a product prototype that a Chinese firm were interested in so, on the back of this, I moved to China and started working with the firm.
"They specialised in LED light technology. Mostly – which was key at the time – how to save energy by taking traditional light sources and finding ways to incorporate LED lights.
"During this time I started researching other ways to incorporate LED technology into existing light based products."
He took a UV based lighting system – invented in the 1960s and used by NASA to clean the air in the 1970s – and found a way to improve it and make it work with the visible spectrum emitted from LED lights, thus making it safe to be used when people were in the room and CLEANLIGHT was born.
Reynard said: "I had seen my invention work in China and it was thrilling. I knew if I could get in front of the right people it could mean great things for the UK and other countries too.
"This was 2016 – a very different time to this year – and MRSA was, and still is, a huge threat to patients in hospitals. I started trying to get in front of the right people but kept hitting brick walls."
He partnered with Power on Demand – a lighting design and distribution operation – and they formed Lightico.
Lightico – formed in July this year and based in Leeds – is backed by private equity firm Newmore Capital.
Garrett said: "For the UK market we need to prove directly that our product kills the virus that causes Covid 19.
"This week, our Dublin based scientists commence trials to specifically address CleanLight's impact on virus' and, more specifically Sars-CoV-2 – the virus that causes Covid 19.
"These results are due by the end of October and we have further field trials in NHS wards in the UK as well as office buildings, supermarkets and hospitality venues in the pipeline.
"We know these lights work. We have seen the science, read the research and seen the results.
"We know the addition of these lights into pubs, restaurants, schools,  hospitals and public spaces will help us as a country defeat Covid 19 and we are working tirelessly to ensure we have all of the proof and are in front of the right people to make this happen."
:::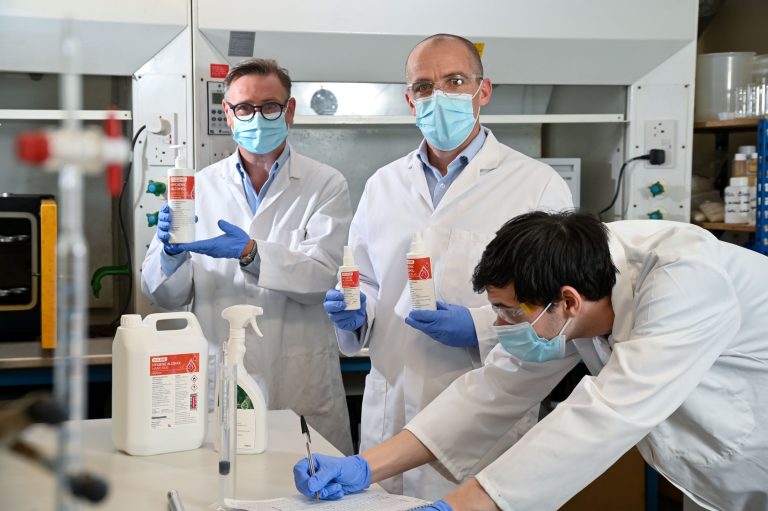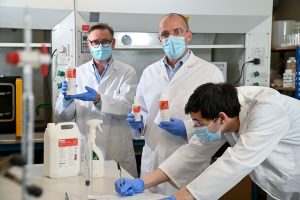 Another Yorkshire company has joined the battle against coronavirus by producing its own range of hand sanitising rub.
Thirsk-based toll and contract manufacturer Cod Beck Blenders, which began producing hand sanitiser during lockdown on behalf of clients, has joined forces with infection prevention specialist Hampton Healthcare to launch the CoClens alcohol-based hand rub.
Made to the WHO formulation and complying with the relevant standards for efficacy (EN 1500 and EN13727), the product will initially be available in 100ml, 250ml, 500 mls and 5 litre packs, along with a 750ml hard surface disinfectant spray.
Steve Meyer, managing director of Cod Beck Blenders, said: "We began manufacturing hand sanitiser early in the pandemic and have since produced literally thousands of litres for some of the leading names in the UK hygiene sector.
"With demand continuing, we have now partnered with Hampton Healthcare, which has 25 years of combined infection prevention knowledge, to offer our own CoClens range.
"Bringing together Hampton Healthcare's specialist technical expertise with our skills in the manufacture of complex products and the benefits of our very flexible production facility, is a great fit.
"We have already begun production and will initially focus on the healthcare and life science sector, before rolling out the hand sanitising rub more widely."
Andy Newsome, consultant at Hampton Healthcare, added: "Partnering with a respected and experienced manufacturer like Cod Beck Blenders is really exciting.
"We are currently working to develop a number of other infection control products to complement the CoClens hand sanitising rub, and, together, we will be able to offer a range of highly technical, infection prevention solutions to suit the needs of customers in a wide range of industries."
The range will be manufactured to the requirements of medical practitioners and tested to the latest microbiological standards to support NHS tenders and Government contracts.