Deal heralds further expansion for private hire vehicle operator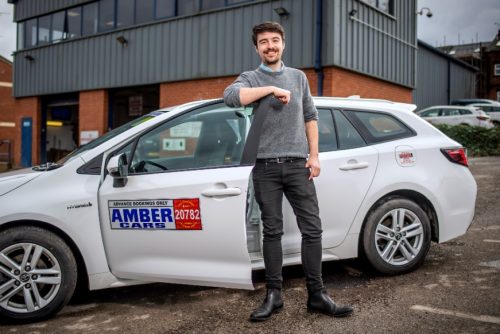 Leeds' largest taxi and private hire vehicle operator, Amber Cars – part of the Veezu Group – has acquired Pudsey B-Line to further expand its service area across West Yorkshire.
The acquisition of Pudsey B-Line will see the Veezu Group partner with an additional 50 licensed vehicles in West Leeds.
Operating under the existing Amber Cars brand, the deal provides the Pudsey B-Line drivers and their passengers with better technology and multiple ways to easily book and pay for journeys.
Chris Neary, Amber Cars regional director, said: "This is great news for Pudsey B-Line drivers and their passengers.
"Residents and businesses will benefit from increased capacity, and more ways to book journeys. Amber Cars has market-leading technology and excellent service standards."
The Amber Cars booking app, available for both Android and Apple devices, enables passengers to book a journey in three taps.
Alternatively, if passengers prefer, they can still make a booking by using the existing telephone numbers for Pudsey B-Line.
Amber Cars was one of the first private-hire operators to introduce additional COVID-safety measures in 2020 to make journeys as safe as possible for both passengers and driver-partners.
The measures include specialist cleaning regimes, trialling in-vehicle protective screens and making available more than 270,000 face coverings to driver-partners, free of charge, for their own use while driving.
Its deal to acquire Pudsey B-Line is the company's third acquisition within 13 months. In early 2020, Gee Gee Cars – located in Beeston, and Premier Cars – based in Moortown, joined the ranks at Amber Cars.
The business is owned by transportation technology innovators Veezu Group. Veezu has four other major service hubs throughout the UK, each operating under established local brands – A2B Radio Cars in the West Midlands, Go Carz in Shropshire, V Cars in the South West, and Dragon Taxis in South Wales.