Government grounds airport expansion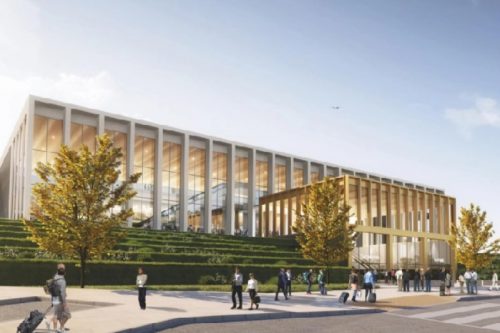 A decision on Leeds Bradford Airport's expansion has been delayed "indefinitely" by the Government.
The controversial plans for a new terminal building which were approved by Leeds City Council in February despite objections from all five Leeds Labour MPs and various groups including Leeds Friends of the Earth and the Group for Action on Leeds Bradford Airport (GALBA).
Following the council's approval, the £150m plans,  the secretary of state for housing, communities and local government, Robert Jenrick, had until 6 April to decide whether to intervene in the decision and "call in" the plans for a public inquiry.
However the Ministry for Housing, Communities and Local Government stated today that it had delayed the decision "indefinitely" in order to "allow time for proper consideration" of the Leeds Bradford Airport proposal.
A spokesperson for Leeds Bradford Airport said: "We acknowledge the deadline extension and hope that the secretary of state for housing, communities and local government will uphold Leeds City Council's approval for our replacement terminal, which will deliver thousands of new jobs and support the region's economy.
"Our proposals will deliver the UK's most efficient terminal building, enabling us to become a net zero airport, building back better and enhancing connectivity within the UK and internationally."
A spokesperson for Leeds City Council said: "We have been informed today by the Ministry of Housing, Communities and Local Government that the secretary of state will take some additional time to consider the Leeds Bradford airport planning application.
"The application is a complex one and has generated a significant amount of interest at both a local and national level. We await the secretary of state's decision in due course."
During the planning meeting in February supporters of the project including Gerald Jennings, of West and North Yorkshire Chamber of Commerce, Henry Murison, Northern Powerhouse Partnership director and Andy Clarke, chairman of LBA all spoke of the benefits the plans would bring to the region.
Jennings said approving the proposals would provide a huge boost to employment at a time when Covid-19 and Brexit has imposed a massive strain on businesses.
"The opportunity for new jobs across a broad skills base can't be passed over at a time like this," he said.
"Investment in infrastructure is a proven way of driving economic growth, both during construction and after the work is complete.
"Our region is the largest economic region outside London in the UK and we need an airport worthy of that."
Murison said aviation would still have a role to play in a net zero economy. "If this application is turned down we'll simply be making people drive to London to access aviation from there," he warned. "It would be shifting carbon to London and the South East.
"This isn't speculation, it is based on people's current behaviour. "It's not like we're having an additional runaway and dramatically increasing the number of flights. It's about replacing an old piece of infrastructure."
A spokesman for Group for Action on Leeds Bradford Airport (GALBA) said: "Over the last few weeks we have had environmental groups, community groups, MPs, scientists and literally thousands of local people, writing directly to [Jenrick] asking for a public inquiry, and many more thousands have signed a petition.
"We hope that the delay is a sign that he is taking those requests very seriously.
"Leeds City Council has refused to accept the responsibility to safeguard the health of the planet and future generations and as a consequence the ball is in Jenrick's court. He must take that responsibility and order a public inquiry."