The supermarket boss who wants to be the green grocer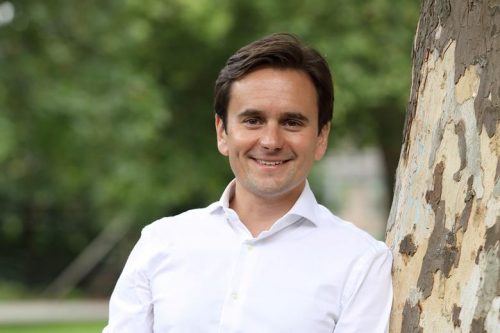 "Everyone has the power to make a difference," said the environmentally-focused supermarket boss whose day job is being responsible for keeping his tills taking £9m on an average day.
Making a difference is clearly important to Richard Walker, who combines being managing director of Iceland with corporate activism.
"I think a lot of people – business leaders included – feel powerless, that they're trapped in the confines of their own market, they're trapped within their customer bases, they can't really do anything," he said.
"But leadership can come from anywhere. Everyone has the power to make a difference so it's about understanding your impacts, looking to reduce them, where possible, and sharing what you've learned with others."
He recently shared what he had learned in a more expansive and exposing way than most. He wrote a book, The Green Grocer, which combined his experiences in implementing a more environmentally-focused approach to food retail with a manifesto for change to inspire business leaders in every sector.
Sustainability means lots of different things to Walker, whose customer base is more typically closely measuring its cash outgoings than its carbon emissions.
As the second-generation leader of the food retailer which was started by his parents Malcolm and Rhianydd in 1970, he feels the responsibility towards the business, its workforce and customers. He doesn't want his environmentalism – that has been seen as "Rich's hobby" or his "crusade" – to damage the business, but doesn't want the business he runs to damage the environment.
"Well, I don't have the perfect answer, and I think I wanted to share in the book, it's a constant tension," he said. "We have big debates internally about whether it's the right thing to do, how far to push it, and I'm always agitating to do more.
"But obviously, we're in business to make money, 50,000 people rely on us for a paycheck, and therefore relying on us to do well, and the communities are relying on us to sell them high quality food at the lowest price so that's real sustainability and it is a constant high wire act. It's very difficult to get all the three things right constantly."
As a privately-owned company, Iceland is able to take a more long-term approach than some of its competitors whose fortunes are measured by their fluctuating share prices. But Walker acknowledges that it is still unusual for a business to take off the blinkers.
"It's rare, stepping up and realising your own impacts and taking responsibility, adopting more of that multi-stakeholder approach, not just myopically focusing on short term profit," he said.
The easy wins though can achieve both, pleasing both the corporate activist and the company accountant.
Walker said: "I think the easiest things are going for the quick wins, the cost savings – LED light bulbs, telematic vehicle delivery routes, food waste, all of that stuff that saves money.
"Our finance director is the biggest fan of us getting out of plastic because there are all these taxes coming in, therefore you don't really want to have the plastic footprint you've currently got in five years' time because it would be very, very expensive."
Iceland has been a leader on issues including palm oil and plastics, but that can bring its own challenges.
"Sometimes the smarter thing is to be second,to let the early adopters suffer all the costs and the hurdles and then just row in behind," said Walker.
"We do that sometimes there are some issues where we're just not big enough, we don't have the economies of scale and we're best leaving Tesco to stand up, take a bolder stance on things and then we can follow. So it is knowing where to lead and knowing where to follow."
It's also about knowing when to collaborate, something that Covid has helped because it broke down some of the walls between the supermarkets who began talking to each other about how to keep the supply chains moving when lockdown and panic buying started to affect stock on the shelves.
The relationships helped with presenting an united, Europe-wide front to the Brazilian government this April, challenging its policies that were seen as weakening environmental protections.
"I think soy is an interesting one, with the retailers getting together signing a joint letter to [Brazilian president Jair] Bolsonaro to tell them to stop opening up the Amazon for exploitation.
"That was done that way because I'm aware that we can't solve the problem of soy alone. We have a choice for palm oil that we could choose other vegetable oils and step out of palm oil, but we can never do that with soy, because we need soy.
"We can't persuade the soy industry to boycott Brazilian soy alone, so it requires these kind of collaborative, corporate activism as opposed to a disruptive stance from little old Iceland. So it's sort of nuanced and it depends which tool you pick, depending on the issue."
Walker, who admits to being worried about what the environment will be like for his two young daughters when they grow up, is clear that change must have scale and pace to have an impact. But he is optimistic that momentum is building.
"I think systemic change is required, it's not just down to the personal opinion of the CEO," he said. "We're seeing a massive kind of tidal wave of ESG [environmental, social, governance] investment and green money, and money choosing not to invest in companies that have dubious kind of governance or social or environmental impacts.
"I think change is coming, but also for businesses to survive and prosper they will need to change to retain customers long term because it's what customers are really looking for now."
Increasingly, he sees employees looking to the company and its senior management to show what they are doing too.
"You don't want it to be one man's mission," he said. "Originally when I started to look at plastics and palm oil it was a very esoteric kind of thing and people just saw it as Rich's hobby, 'he's just tinkering around', but then when we really started to look into it, it was very clear that all of our staff are on board with the agenda.
"I think people became very proud to associate themselves with a business that genuinely is trying to change and that really galvanised the sense of purpose across the business."
He had a simple message for business owners who are wanting to do something but worrying about getting it wrong or falling short.
"Just don't be afraid to try," he said. "A lot of businesses and business leaders are terrified if things go wrong. I think what we need is more actions and people doing what they can where they can."