'It's coming home'

"It's coming home" the conversation begins. No, we're not talking football and the Euros I'm stood in a lift on the outside of the first part of PRS developer Moda Living's New York Square development in Leeds talking to Johnny Caddick, the company's CEO.
The company is about to top out the entire £150m scheme which will feature 515 new homes – the most in any Moda development to date and forms the first phase of the £300m SOYO Leeds regeneration project.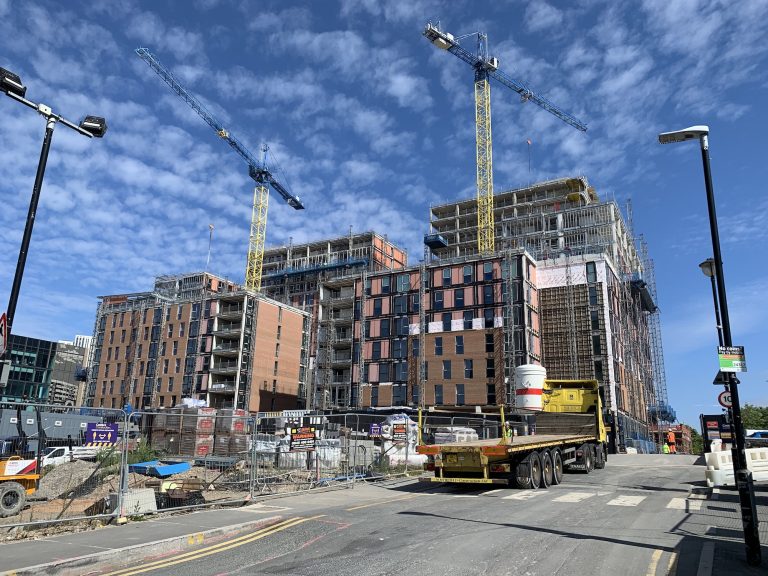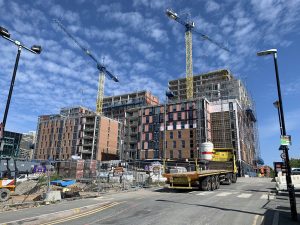 This scheme has been a long time coming with the developer and operator which forms part of Caddick Group.
"It feels good to be doing something in our home city", Caddick continues, "particularly because it feels like a family affair". Saying that it is a family affair, construction on the development is being led by Caddick Construction Moda's sister company and one firmly rooted in Leeds as evidenced by the fact its cranes are blue and yellow – the colour of Leeds Rhinos (another member of the Caddick Group family).
But walking across the eighth floor which will feature a roof terrace with fantastic views back over the Headrow in one direction and out of the city towards Elland Road in the other, it's clear that this building means more to Caddick than just being in their home city.
"City's are being forced to rethink their regeneration" he explains.
"Years ago, all a city wanted was retail, it was considered the silver bullet to regeneration. However after the few years and particularly in the wake of Covid it's clear that what we need is proper mixed use schemes and that's what we're looking to bring."
Before scaling the building, I stood in what will be the central square, an area that is designed to be usable not just by residents by the local community. This often sounds like a lofty ambition but looking across the Pennines at the developer's Angel Gardens scheme in Manchester you see evidence that it can happen.
Caddick passionately talks about that mixed-use approach and how Moda looks at the type of commercial tenants it wants for its development, noting there'll always be a mix of your convenience type stores and your independents who offer an agility and dynamism which give the developments additional life.
But back to the roof terrace – exactly halfway up the 16-storey building.
"We're not trying to just deliver a new building, hand it off to an investor and walk away" Caddick says. "We're a long-term investor because Moda is first and foremost an operator. So, we're designing our spaces to be usable and features which will appeal to our customers lifestyles and which will mean they want to stay."
This approach to supporting lifestyle leads to a discussion about the facilities which include gyms, cinema rooms and a private dining room.
Interestingly the chief executive is honest noting he wasn't sure how much use the cinema rooms would get but he says he's been proved wrong.
"We host our own film nights for our residents there but we've found that they're used for playing video games, watching sport and in some cases even giving work presentations, so my own thoughts were proved completely wrong."
So does Moda look to adapt each development or is there a cookie cutter approach?
"We are always looking for ways to evolve our amenities and design spec to the needs of our residents. It's not a case of reinventing the wheel but adapting, which has become even more important over the last year – from more co-working for those working from home to additional outside spaces."
As the tour of the site continues and with the sun beaming down on Leeds the conversation turns to what's next?
For Moda Living as a whole, it's about to open its Lexington development on Liverpool's waterfront in September, a scheme which has pre-let all the available units already, the developer will then be opening Ebinburgh before New York Square launches in 2022.
So what of Yorkshire, Caddick is passionate about the regional cities, will Moda Living be doing more in its home county?
Put succinctly, yes!
"We've got York which is due to start on site next year and then we have some other opportunities but for Leeds our focus will turn to delivering our next neighbourhood with new homes at the City One site at the southern gateway to the centre of the city."
As we start the decent down we begin to discuss the success of PRS within the property industry and he laughs, for years he says, "we [Caddick] were in the retail realm but got out of that and into PRS and logistics – beds and sheds – and he adds "we seem to have done that at the right time".
But why have regional cities only really just warmed to the option of PRS?
He takes me back to his earlier comment about the drivers of regeneration but also highlights "investors have opened up to the opportunities outside of London – our strategy has been different to others, we've built a strong regional pipeline and then looked towards London."
Ultimately as we remove our PPE – which did include the pandemic addition of facemasks – it's clear that the successful delivery of New York Square and the bringing of this new neighbourhood to life alongside the developments neighbours the Leeds Playhouse, opera North etc means a lot to Caddick and everyone involved!
It really is coming home.