A bowl full of deliciousness
X

Register for free to receive latest news stories direct to your inbox
Register
I'm not a cultured culinary fellow, I can readily admit it – just read my ode to the scotch egg in my last review – but I do operate on the premise that I'll try any food once.
So with the opening of House of Fu – the latest venture from the tram behind Belgrave Music Hall, Headrow House and Ox Club – and with the endorsements of friends who love Japanese cuisine and wax lyrical about the joys of a good ramen, I thought I'd broaden my culinary horizons and see what all the fuss is about.
First off the restaurant, located on the Headrow next to its sister venue the aforementioned Headrow House and opposite a large well know sports store, it offers very chilled vibes and as I sat alone at a window table – don't pity me, it provided some wonderful people watching opportunities – I could imagine this being a place I'd come with friends on a weekend or which I'd bring those ignoramuses / ignorami who think (wrongly) that Yorkshire's food scene is really just Yorkshire pudding and Yorkshire pudding wraps.
Anyway on to the food. As previously mentioned I'm not experienced with ramen and the ways of eating it but I opted for the spicy fried tantanmen which is a chicken and pork broth, toasted rye noodles, spiced pork mince, oak Choi, spring onion, egg and crunchy chilli oil. I also ordered the Gyoza of the week in this case lamb sichuan.
With the gyoza arriving first I picked up my chopsticks – remembering the lessons I learnt in school from the teacher who taught us how to use them by challenging us to pick up Haribo – and went to town.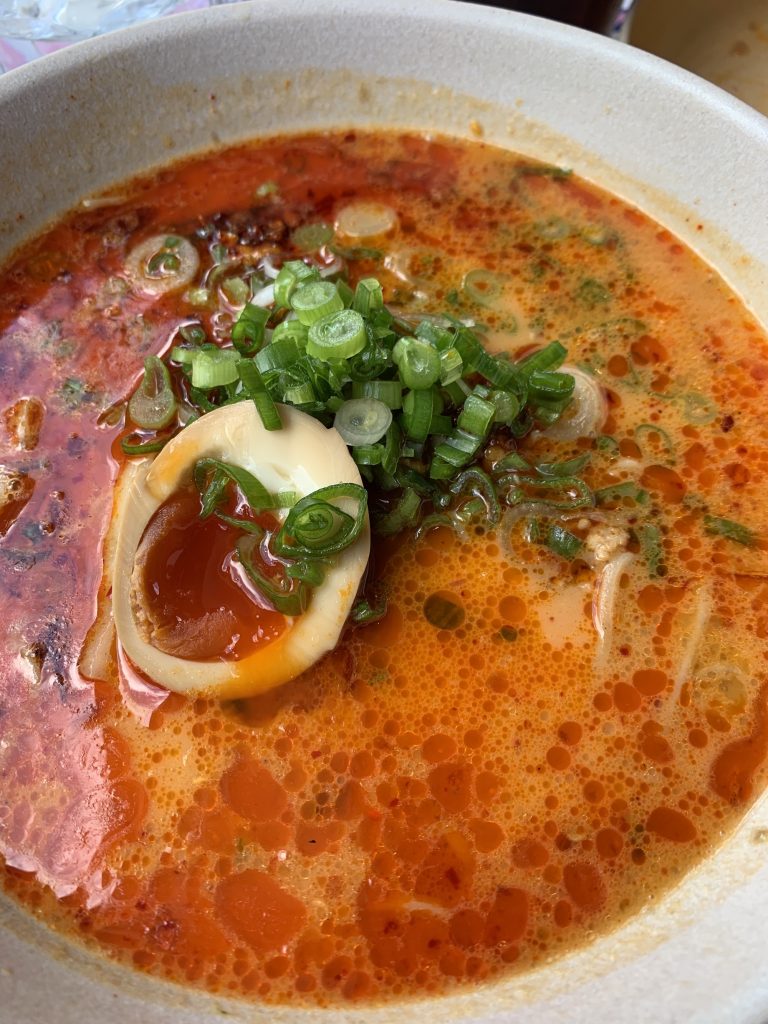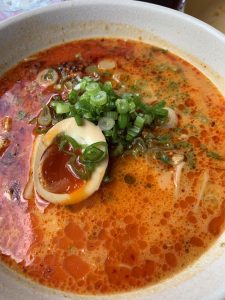 They tasted incredible crispy on one side, soft on the bottom and with a juicy and tasty filling. I'll be honest if I'd have just been given a couple of plates of these I'd have gone home happy – FYI you get six gyoza for £5.
Next up was the ramen and having quickly googled how to eat this dish so as not to look like a noob or cover myself in the orange soup that both which both looked and smelled amazing and was chock full of noodles, meat and veggies I tucked in.
I'd been told by the server that I'd know I was eating something spicy but it wasn't hot hot, her exact words "it's not a vindaloo", something I'm grateful of considering I was eating this in the midst of a heat wave. Anyway I'd concur it's got a kick and a tingle but it's never uncomfortable.
Ultimately it was delicious and I found myself pleasantly full but thinking I want to come back here again – but note to self maybe don't wear a white t-shirt (although only one or two drops landed).
I washed all this food down with a green cola. No this isn't the latest development from that global conglomerate but rather "a unique beverage which combines the great taste and enjoyment of cola with natural ingredients". It's made from green coffee beans.
And because I was committed to truly sampling the menus (and not because of my undeniable sweet tooth) I finished up what had already been a phenomenal meal with a white chocolate and matcha ice cream sandwich. The perfect ending to the spicy ramen main and the ultimate way to cool down on a sunny day in Leeds.