Agency roundup: Rise at Seven; KISS Branding; OnFire; and more
X

Register for free to receive latest news stories direct to your inbox
Register
Search first creative agency, Rise At Seven, has been appointed as boohoo and boohooMAN's retained SEO creative agency, to help accelerate digital growth across the UK and US markets.
Earlier this month the Sheffield-headquartered company also announced the expansion of its new Manchester office.
Carrie Rose, chief executive, said: "I am truly proud to announce that we have been appointed by both boohooMAN and boohoo for the UK and US markets.
"This means we have further expanded into the boohoo group joining existing clients Pretty Little Thing and Nasty Gal to grow their digital presence and support their extensive growth plans.
"We will be running cross-channel campaigns that tie in search, social and digital PR, and I have no doubt the Rise at Seven team will excel on this account."
Boohoo group has seen a 41% increase in revenue over the past year and has ambitious growth plans. It is expected to see a revenue growth of 25% in the next year.
Jessica Routledge, head of digital of boohoo, said: "We are excited to be working with Rise at Seven to help further scale our digital PR activity, with a focus on creating successful cross-channel campaigns.
"We've already got some great plans in place and we feel the partnership with Rise at Seven will help us take these to the next level." 
John McKinney, head of digital of boohooMAN, added: "This collaboration with Rise will help boohooMAN continue to disrupt the menswear fashion industry.
"Rise at Seven's combination of creativity & campaign execution form a key part of our global strategy, we're looking forward to getting started and bringing the ideas to life." 
:::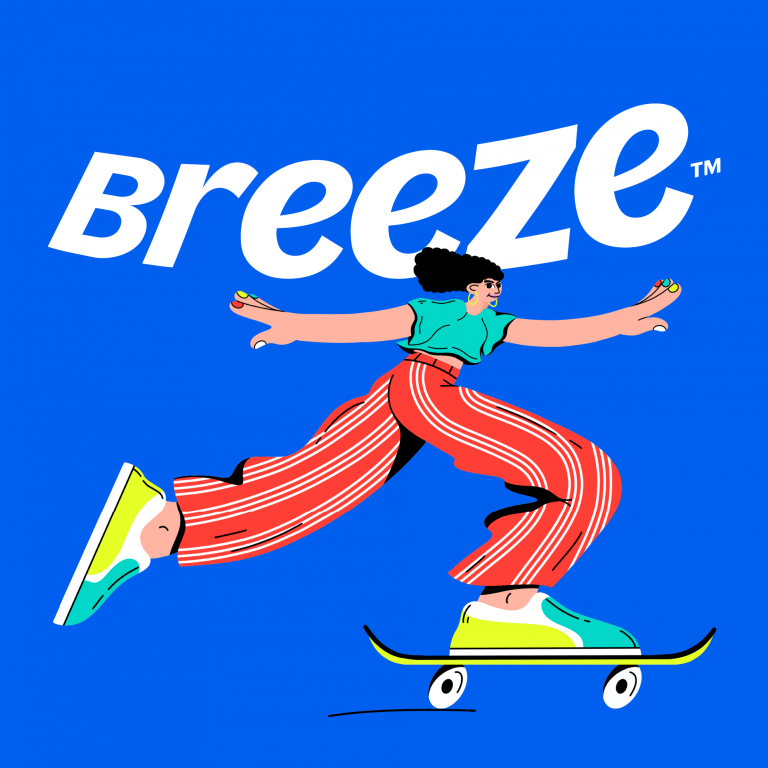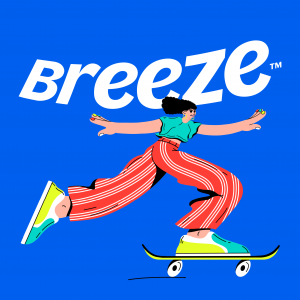 Strategic brand studio KISS has worked with Leeds City Council to rebrand its youth-platform, Breeze, ahead of the launch of a new digital membership and companion app.
For the past 20 years Breeze has offered activities, events and discounts to 0-19 year olds across Leeds.
Breeze needed a refresh of its brand identity and strategic positioning, in order to regain relevance and resonate with the next generation.
Leeds-based KISS worked with Breeze and members of the Leeds Youth Council to explore the brand offering and purpose as well as its relationship to Leeds locals.
Accompanying the revitalised look-and-feel, KISS created a suite of brand assets including custom stickers for the Breeze team to use across their social channels and future communications campaigns.
Poonam Saini, creative director at KISS Branding, said: "We pride ourselves on celebrating young talent, so working with a youth-focused brand all whilst getting to champion our home-town of Leeds really was a gift.
"Designing a brand that appealed to such a broad audience was no mean feat – but we relished the challenge.
"Breeze makes finding activities and discounts in Leeds 'easy breezy' so it was important our new brand embody
this sense of simplicity and contentment.
"The swooping logo and typography, playful yet refined colour palette along with contemporary, inclusive illustrations come together to create a brand worthy of the Breeze offering – a world away from the typical 'Town-Council' identity they had previously."
Rosie Heard, communications manager for Breeze, said: "KISS Branding really delved deep into understanding the purpose and meaning behind Breeze and helped us find our brand 'soul'.
"The whole process was really inspiring and thought provoking, making the team question what, how and why we deliver.
"Not only have they created a brilliant brand for Breeze that fits purpose, but they have also helped inspire and reinvigorate our team, breathing new life into Breeze and everything we do."
:::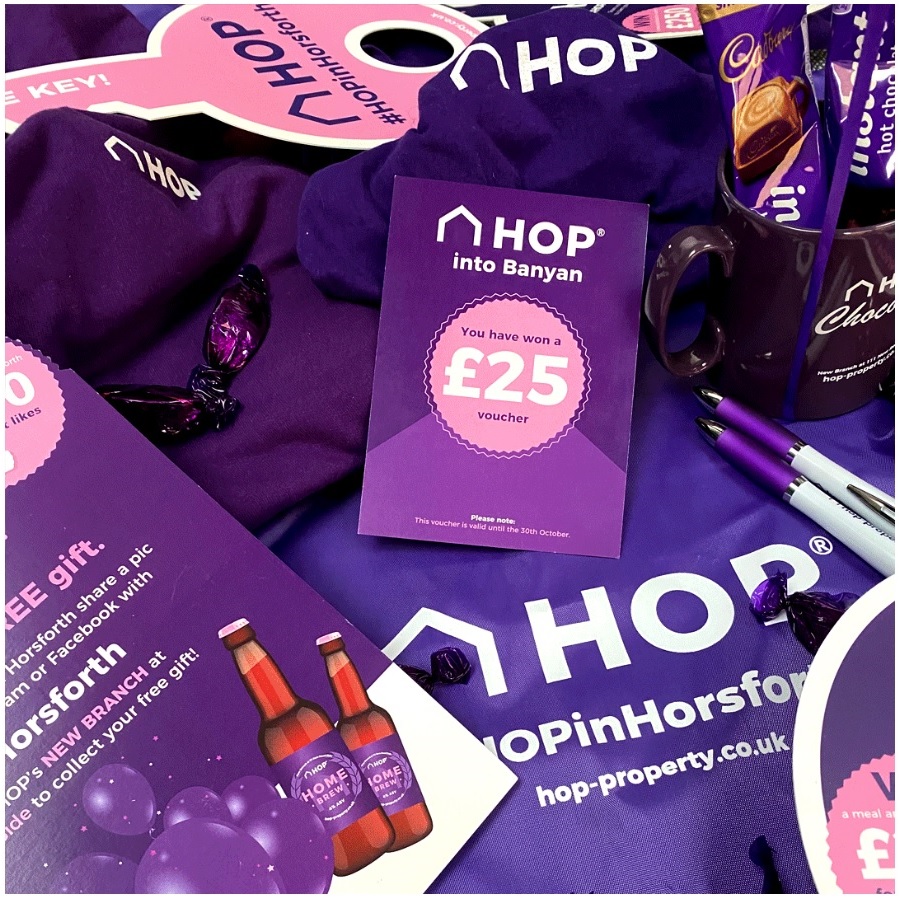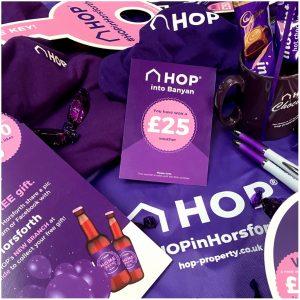 After developing a new brand name for Leeds estate agent, HOP – previously known as Let Leeds – creative agency, OnFire, has now overseen the company's marketing and promotional strategy during its expansion into Horsforth.
HOP's new office, located on New Road Side, offers residential property sales and lettings, as well as being home to the company's property management team and training centre.
In total 11 members of HOP's team are based in the Horsforth office, which opened in May, and complements the firm's other offices in Leeds and Pudsey.
As part of the launch activity, OnFire designed and sourced a range of promotional merchandise including branded cakes, bags, balloons, beer and giant door keys that were distributed throughout Horsforth. More than 100 goodie bags were given out in the first week alone.
OnFire also masterminded a social media campaign inviting people to post pictures of the merchandise, with the hashtag #HOPInHorsforth, for a chance to win a £250 meal.
In addition to the Horsforth launch and devising the name HOP – The Home of Property – OnFire, which has a strong track record across the property industry, has also worked with the company to promote its substantial portfolio of student properties in Leeds.
Karl Lakin, director at Leeds-based OnFire, said: "Let Leeds was a leading name in the residential rentals market in Leeds, but as the company expanded, added new services and prepared to open in Horsforth, it needed a new and more relevant brand name, and that led to HOP – The Home of Property, being born.
"The company's Horsforth expansion has been very well received and our activity spanned social media and digital through to direct mail and innovative promotional merchandise."
Luke Gidney, managing director at HOP, said: "When we re-launched as HOP last year, our aim was to bring the fresh approach that we are famous for in lettings, over to the sales market.
"To be able to open a new, bricks and mortar branch – especially after the challenges we all faced in 2020 – is quite the achievement, and Horsforth is the perfect location for our new venture.
"OnFire always understands the brief and what we want to achieve. Karl and his team devised a number of exciting ideas that have resonated with Horsforth's residents, and we've had plenty of positive feedback from the local community."
Over the last 12 months, OnFire has created campaigns for a succession of high-profile property developments, ranging from office schemes through to large scale regeneration projects, on behalf of Keepmoat Homes, Rushbond plc, Lovell Homes, Peel Living, Countryside Properties and Miller Homes.
:::
Face Facts Research, in Leeds, is paving the way towards becoming a leader in User Experience (UX) testing.
Having recently expanded its research team, the market research agency, based in Headlingley, has secured a number of UX testing projects.
Responsible for the qualitative recruitment for projects across a range of sectors – including briefs from well-known high street brands – the agency oversees recruiting respondents for each end client to ensure the UX testing is as effective as possible.
UX testing results are used to inform product research and development across a range of consumer products.
Market researchers believe that fast, reliable and scalable user research offers companies valuable insights that can be used to improve customer experience, which in turn offers competitive advantages.
Johanna Jones, director at Face Facts Research, said: "User experience research provides a systematic study of target users which adds realistic context and insights to inform design and development processes.
"UX research is seen as a critical part of both the experience and design process. Our team is able to deliver quality respondents using our robust and well-established recruiter network."
Recent Face Fact Research projects have included testing music and food apps as well as financial website testing.