Weekender: A bit of Christmas luxury
Restaurant review by Lee-J Walker, joint managing director of TheBusinessDesk.com
Last week, our finance manager, Bronwen and myself took advantage of reviewing the new fixed menu at Harvey Nichols in Leeds.
On arrival and taken to our seats, which must have been the only two in the place available, there was an obvious festive feel to this luxury department store's in-house restaurant and bar.
Our waitress for the day was more than pleasant and helped us to a Harvey Nichols own brand champagne. Even though I'm an old world vino type of guy, I often buy bottles of their own brand from the store and I'm never disappointed.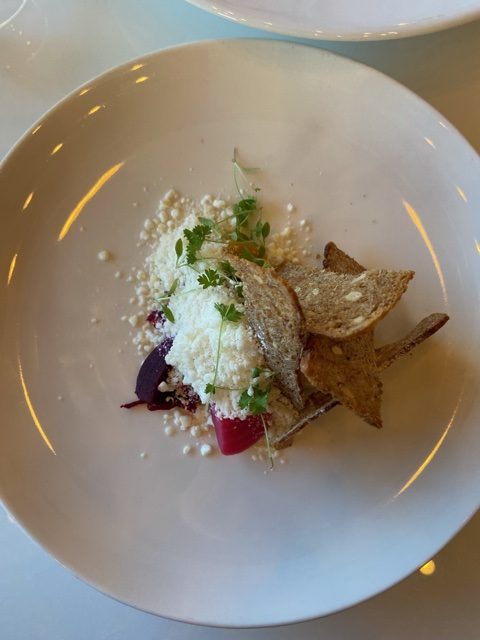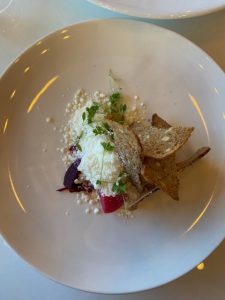 We decided to go with different orders to allow us to sample the entire menu.
Bronwen ordered the truffled celeriac veloute which was accompanied with a selection of apples, walnuts and blue cheese. Comments included: "Very rich!' "Nicely seasoned!" and "lovey texture!'
I guess she enjoyed it.
However, it wasn't until she'd completed her first course rich in lovely flavours that our waitress informed Bronwen that the apples, walnuts and blue cheese affectionately balanced on the side of the bowl, are supposed to be dumped in the soup before you eat, which brings the whole recipe together. I didn't know either.
My starter was mackerel pate, which came with what looked like snow on the top which in fact was shaved horseradish but looked very pretty nonetheless. This was a great choice and went well with the fizz.
Just before we moved to our main course, I ordered us a nice glass of Chenin Blanc each, again sticking with the HN brand. An easy tipple, shame I had meetings later otherwise I could have stayed there putting the world to rights all afternoon.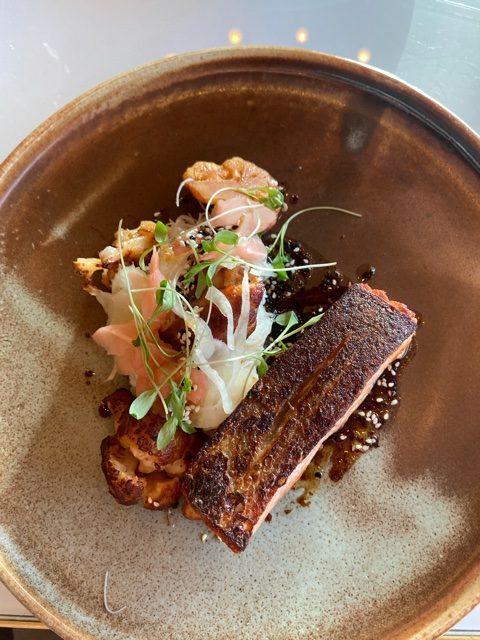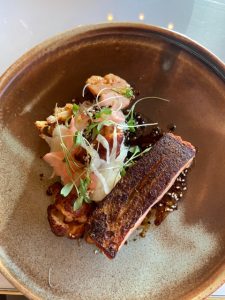 My main was basically Christmas dinner, Harvey Nicks style. The mash was buttery with cranberry sauce and the turkey breast was cooked perfectly. The meal came with a lovely little confit turkey leg parcel. The entire dish was lovely but this little tasty accompaniment was the star of the plate.
Bronwen's main dish was a little more exciting, a salmon dish with teriyaki sauce along with cauliflower and pickled fennel. Comments this time included: "Al dente!" "This is sticky & rich!" "this has nice acidity."
I think Bronwen is better at this than me.
Dessert for me was good old Christmas pud and I don't mind saying it was the best I've ever had. I have a love-hate relationship with Christmas pudding and I refuse to eat Christmas cake without cheddar but this pudding was superb. In fact, I'm going to buy some if they sell it in the store.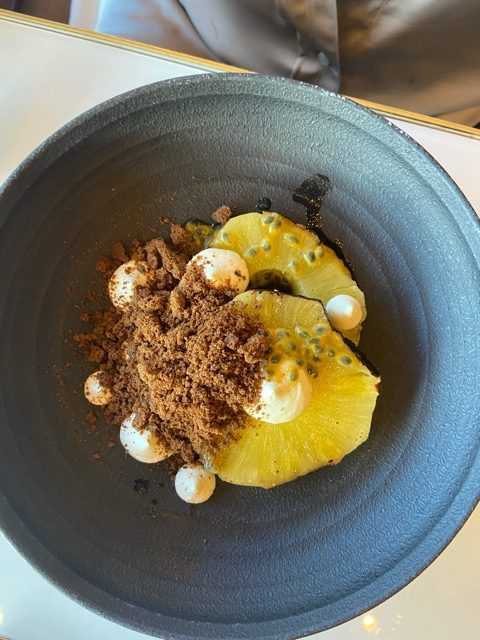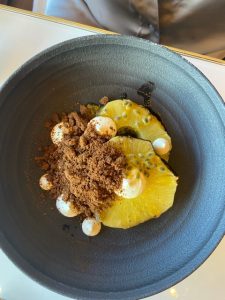 Again, Browen's looked more exciting: roasted Pineapple with cream cheese and lime leaf syrup. To be honest, it was a huge plate to finish with and Bronwen – although she loved it – couldn't complete the task.
We finished with a nice espresso and went on our way.
In summary, my views are this restaurant always delivers, is not overpriced and the food is better than many restaurants out there, certainly the chain ones.
I'm always pleased with Harvey Nichols and I'll be going back there soon when I eventually do some Christmas shopping.