New era of independence for specialist construction sector manufacturer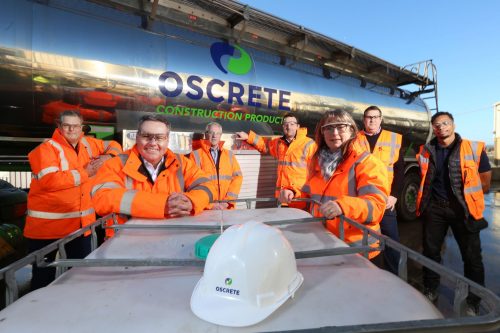 Christeyns Bradford-based manufacturer of concrete admixtures has heralded a new chapter, following its investment in a new standalone company within the group.
Oscrete UK Ltd is a specialist construction chemical supplier and has operated as a division within Christeyns since 1983 having originally been part of the historic, former Bradford Oils and Soaps company which was founded in 1874.
The business, which continues to share its Rutland Street premises with Christeyns UK in Bradford, says it is committed to becoming the UK and Ireland's leading supplier of admixture and additive products which are used in the construction sector.
Director Scott Wilson, who has headed Oscrete since 2018, said the team's passion for sustainable growth and a commitment to continuously improving customer operations is a core focus under the new Oscrete UK Ltd operation.
He added: "Oscrete has operated successfully as a division of Christeyns UK Ltd for almost 40 years and while we have hugely valued the support and the resources the wider business offers, the time is now right to invest in Oscrete and our construction activities and focus entirely on our core markets and further developing our expertise.
"The pandemic forced a period of real challenge in our construction customer base, quickly followed by substantial growth.
"We've recognised we need a bespoke business model dedicated entirely to our industry which will facilitate growth, new product development and specialist recruitment."
Oscrete UK makes concrete admixtures for precast and ready-mix concrete and the ready-to-use mortar industries.
Its team manufactures a range of high performance super-plasticising admixtures, waterproofing agents and products to control moisture damage in construction.
Wilson said: "Operating independently will also allow us to develop systems which complement those of our customers and to place even greater focus on customer service, new product development and continuing to develop our supply chain expertise.
"We are looking forward to taking our brand, our family values and our expertise into a new chapter for the Oscrete UK business and embracing the challenges of this thriving building sector."