Milestone reached at £52m city office development
An official topping out has been staged to celebrate the final steelwork and roof installation of the new £52m office development at Thorpe Park, Leeds.
The event signifies a major milestone in the latest phase of development at Thorpe Park Leeds, which is on track to realise developer Scarborough Group International's (SGI) vision for creating the largest mixed-use business destination in northern England.
Credit management company Lowell will be relocating its headquarters to Thorpe Park. Last year this business agreed a record-breaking pre-let following its commitment to the 133,118 sq ft workplace.
The development is being designed by architects Carey Jones Chapman Tolcher.
GMI Construction Group PLC is the main contractor for the building, which extends over seven floors with two levels of underground podium parking and amenity below.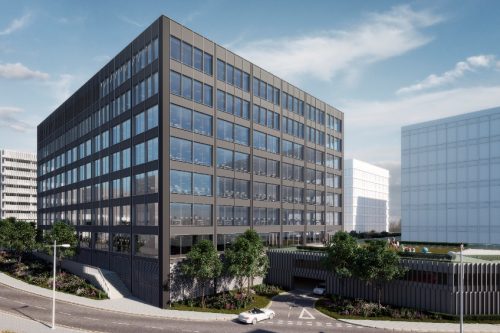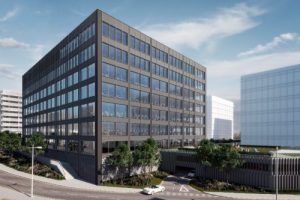 Public realm at Thorpe Park is a key consideration within the design, introducing new green spaces to support local wildlife habitat and a place for staff and visitors to relax.
SGI hosted the topping out event with local councillors and special guests from Lowell. Guests also included representatives from construction partner GMI Construction Group PLC as well as the project design team.
The tradition of blessing a yew tree with the four symbolic elements of wine, oil, corn and salt took place on top of the building. The tree was then planted in Central Park, a 15-acre public green space.
Adam Varley, head of commercial at SGI, said: "Despite the many challenges caused by the pandemic we have collaborated as a formidable team to deliver this project to exacting standards.
"We give thanks to Leeds City Council, GMI Construction Group PLC, CJCT, Ares Design, BuroHappold, BWF Consulting, KNG Services, Pell Frischmann, Zerum, Walker Morris, Cushman & Wakefield, JLL, BNP Paribas and RA Real Estate for their contributions.
"Alongside this building we are also progressing on site an associated multi-storey, 442-space, active travel hub to support the new phases of office development."
John Pears, CEO of Lowell UK, said: "This week's ceremony is an exciting milestone for the Lowell team as we continue the preparations to move to our new home.
"The move will provide us with a unique working environment designed to improve collaboration across the business, support colleagues to work in a more flexible way, increase wellbeing facilities, and meet the needs of our business, both now and in the future."
Lee Powell, CEO of GMI Construction Group, added: "Thorpe Park has become an integral and strategic part of Yorkshire's economy and we are proud to continue our long-standing contribution to its development through the construction of this new office.
"Working in close collaboration with SGI, we're helping to increase the availability of high-quality offices in the Leeds area for businesses such as Lowell UK."