'The opportunity we have this year is to support businesses further with their growth plans'



Craig Flynn is a qualified chartered accountant and qualified chartered tax adviser, with a first class honours degree in mathematics. He has a broad range of experience in corporate tax advisory and compliance including specialising in research and development (R&D) tax incentives claims at Access2Funding.
During his career Flynn has worked in industry roles including as a tax manager at United Utilities group of companies and employed in the tax department of the Kier construction group of companies. In addition, he has worked for accountancy firms including PwC and KPMG in tax manager and senior tax manager roles.
---
What I enjoy most about my role is the variety; I am involved in and undertake work for a wealth of different clients in an assortment of industries, which makes it very interesting.
The opportunity we have this year is to support businesses further with their growth plans. In addition to continuing with our core business of providing R&D tax relief support and advice to our clients, in 2022 we're also focused on further assisting businesses with their growth plans via additional services in our tax portfolio for SMEs. This includes patent box, various capital allowances and land remediation relief claims, as well as other tax advisory services managed by our team of accountants, tax advisors and R&D specialists.
Last year, HMRC employed 100 additional compliance staff to review R&D claims. This focus on increasing regulation of R&D tax incentives claims is one of the biggest issues affecting our sector and should improve standards over the years ahead. However, it also means it is more important than ever that businesses seek advice from reputable tax specialists and complete due diligence before taking advice.
The new regulation comes as we see a significant increase in the volume of R&D tax relief claims submitted each year. According to HMRC there were less than 20,000 claims in 2013/14, compared to more than 85,000 in the last financial year. It is this increase which has led to recruitment of additional inspectors at HMRC to improve regulation.
'Honesty' and 'integrity' are two of Access2Funding's company values. These are extremely important when considering R&D tax incentives claims given the significant level of fraud and errors right now regarding the preparation and submission of R&D claims.
Ask for help when required, is a key lesson I learnt early in my career which has stuck with me over the years.
The person who perhaps had the biggest influence on my career is the man I met at the very beginning. The tax partner who interviewed me for my first job, has perhaps had the biggest influence upon my career and was a man who I consider always behaved with class and dignity.
Outside the office you'll normally find me spending time with family and friends. I'm also a sports fan and that means if I'm participating in it you'll most likely find me watching it!
---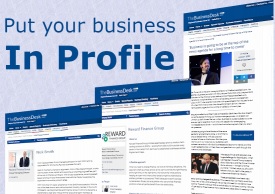 Appear in your own In Profile feature by signing up for a Business Profile on TheBusinessDesk.com.
The company and individual profiles on TheBusinessDesk.com are designed to help our clients build corporate and individual awareness within the regional business community and benefit from TheBusinessDesk's traffic and visibility in the business community and the search engines.