'We're entering an economic and recovery phase different from any we have faced before'



Phil Deyes is a director at Leonard Curtis. He started his career in insolvency in the early 1990s and has worked in both Leeds and Hull, serving many clients and businesses throughout the Yorkshire and North East region.
---
There are not many jobs I can think of that give you the opportunity to meet such a variety of people, organisations and communities across such a diverse range of businesses and sectors. I have listened to so many interesting stories from the people we have advised and the personal sacrifices they have made to run and manage their business. I have seen industry and commerce change in this region. In the 1990's I advised local textile owners, printers, food producers, light chemical and industrial manufacturers. Then it was call centres, recruitment consultants, haulage and logistics through to financial services, digital technology, retail and housing development. Construction seems to have been the consistent recurring theme throughout my career. Yes, it's really been that diverse!
I believe we are entering an economic and recovery phase different from any we have faced before. We are advising businesses that are saddled with unprecedented levels of debt and finding it difficult to trade out of their present position. Debt has been incurred to underpin losses and is now more difficult to secure; tax debt has ballooned under various deferral schemes; there will be wage pressure through cost of living rises and labour shortages; and we have recently seen costs of production increase alongside rising interest rates. All these indicators do not bode well for business growth and turnaround.
At Leonard Curtis we offer a variety of business solutions that focus on insolvency avoidance and turnaround wherever possible. As well as our restructuring arm we have a finance brokerage and legal services division within our Group. All our divisions can come together to find the right solution for our clients. We see an opportunity to help good businesses to survive, recover and grow rather than become 'zombified' (almost dead, but not quite!) before finally failing with even more debt and more consequences for the left behind stakeholders.
We have had to adapt to the many temporary insolvency measures introduced through CIGA (The Corporate Insolvency and Governance Act 2020), introduced to protect businesses suffering from the pandemic, which has suppressed the number of insolvencies across the country. Insolvency numbers have been, in my view, artificially suppressed. The majority of these temporary protection measures have now been lifted and we need to get the message out to business owners that the goal posts have moved, and they need to be aware of the heightened risk their business may face. This coupled with the ending of furlough and the government backed loan schemes, means we need to be ready for advising an increased number of businesses over the next few years.
The regulatory landscape in which we operate has changed significantly within the last 5 to 10 years. This has impacted on how we manage insolvencies and deliver advice and solutions to businesses. I think many of the changes have improved how we operate as an industry and how we are perceived as a sector. However, I think there is always an opportunity to improve. We are sometimes seen as the 'last chance saloon' when it comes to taking recovery and business turnaround advice. I often hear the remark 'we have tried everything else, which has failed, so we called you'.
At Leonard Curtis we see ourselves as a multi-disciplinary financially focussed business solutions group, with many facets in addition to insolvency. Other insolvency firms are also evolving and developing how they interact with their client base. We therefore need, as a sector, to promote how important a role insolvency recovery and turnaround will play as the economy seeks to expand post pandemic. We need to push ourselves to being an integral part of the economic recovery plan, acting in the best interests of all stakeholders.
People alongside good finance make businesses a success or failure – the right funding to the right people for the right purpose is key. That's one of the key phrases that I have in my life, alongside; a good advisor is not there to take sides. That one is crucial as in my role I'm not there to be prescriptive or judgemental but I do believe we can show empathy and understanding whilst still asking the difficult questions and gaining the respect to challenge and question.
My final one is: we need to listen as well as talk. Ultimately our job is to understand the problem before diagnosing it. Talking at someone rarely gets you the answers you need to provide the right solution.
The numbers will only give you part of the story, is a lesson I learnt early in my career.
A lot of what we do will centre around looking at the finances of a business. What happened in the past and what is forecast to happen in the short, medium and long term. Don't get me wrong, they are an essential part of what we do, but they are not the full picture.
The lesson I learnt was to work out whether what was planned was deliverable and whether looking back gave you the insight you needed to advise on the future and therefore what your recommendations would be. Understand the culture, the sustainable competitive advantage of that business over its rivals and who, beyond the business owners, are key to the company's success.
I have been fortunate to be influenced by several people throughout my career. From my peers when I started in insolvency, to company directors I have advised, through to professionals I have worked with across the legal, lending and valuation services sector. But in terms of inspiration, I turn to my friends, family and work colleagues.
---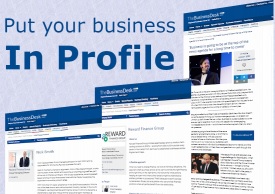 Appear in your own In Profile feature by signing up for a Business Profile on TheBusinessDesk.com.
The company and individual profiles on TheBusinessDesk.com are designed to help our clients build corporate and individual awareness within the regional business community and benefit from TheBusinessDesk's traffic and visibility in the business community and the search engines.