Yorkshire butcher wins order to export to Germany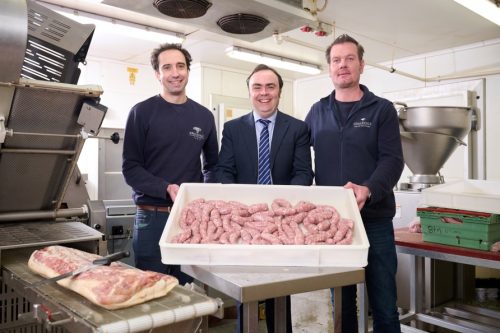 A major order for Yorkshire sausages has been exported to Germany, with support from overseas trade specialist, Chamber International.
Swaledale Butchers, Skipton, has exported 220 boxes of artisan breakfast sausages in an order worth more than £30,000 to a Hamburg-based international food supplier specialising in cruise ships.
Chamber International provided advice and paperwork to Swaledale Butchers to meet the new requirements for shipping goods to Germany following Brexit.
Rare breed business Swaledale, which works only with small-scale farmers seeking to preserve native breeds, supplied pork sausages, made with with nutmeg, mace, ginger and other spices to its German customer.
The company, founded in 2010 by brothers-in-law Jorge Thomas and Charlie Cowling, supplies mainly well-known gastro pubs, 80% of which are in in London, and include Anchor and Hope, Moro, well-known chef and author, Josh Katz at Berber & Q, and Burger & Beyond, a recent winner of the best burger in London.
Cowling said: "We are a whole carcass butcher dedicated to supplying native, rare breed meat and our award-winning sausages are made to our own recipes and scrutinized by our chef community.
"We have previously traded with Greece but now export only to Germany and required Chamber International's expertise because of new regulations which apply following Brexit. They did a very professional and efficient job for us."
Swaledale Butchers, which has 28 staff, sources from farmers in Buckden, Malham, Hellifield and Helmsley.
These farmers are preserving traditional native breeds, such as Belted Galloway, Dexter and Highland Cattle; free range Middle-white pigs; Ross herb-fed chickens and Ryland Sheep which declined following the introduction of cheaper, higher-yielding and leaner continental breeds.
The business, which uses traditional storage and preparation methods including a Himalayan salt room and smoking pig's check over beech, launched an e-commerce website to supply the public in 2020.
Chamber International director, Tim Bailey, said: "Exporting sausages to Germany, home of Bratwurst and Frankfurter, shows how popular high quality British artisan foods are overseas.
"UK food and drink is an international success story and we are pleased to help Swaledale Butchers be part of it."