Clarion named title sponsor of the Rob Burrow Leeds Marathon
Leeds-based law firm, Clarion, which has been an integral support for Run For All since its inception in 2007, has unveiled its latest partnership with the not-for-profit sporting events company.
Clarion will become the official title sponsor of the 2023 Rob Burrow Leeds Marathon. It builds on Clarion's long-standing support of Run For All, with this year marking 15 years of its sponsorship of the Leeds 10K Corporate Challenge. 
In partnership with Leeds City Council, the Rob Burrow Leeds Marathon will honour Leeds Rhinos legend Rob Burrow and help raise funds for the Leeds Hospitals Charity's appeal to build the Rob Burrow Centre for Motor Neurone Disease, as well as the MND Association and other charities.
Taking place on 14 May 2023, the event marks the first time the city has hosted a marathon since 2003 and has been inspired by former Leeds Rhinos Captain Kevin Sinfield's epic charity challenges in support of his friend and team mate Burrow.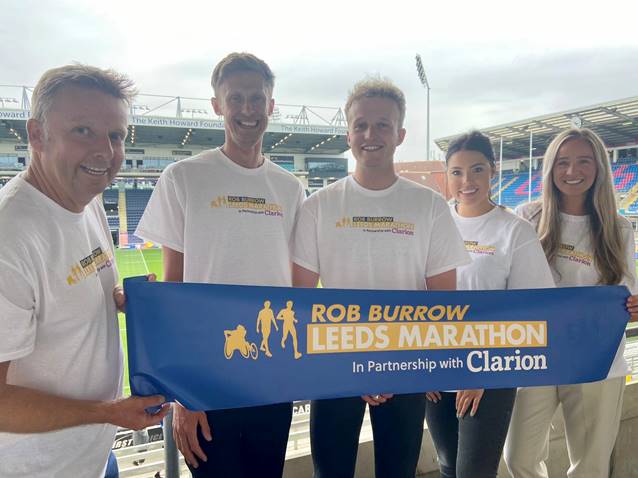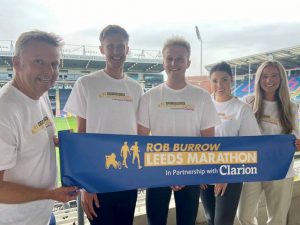 Encompassing a new route, the event will start and finish where Burrow achieved some of his greatest sporting achievements – Headingley Stadium.
The circular route will then take in some of Leeds' most scenic countryside and outer suburbs, journeying around Woodhouse Moor before travelling up through Headingley, Adel and Bramhope and heading out to Otley and back for the finish.
Since he was diagnosed with Motor Neurone Disease in December 2019, Burrow and his family have campaigned to raise awareness and funds to support everyone impacted by MND.
His latest goal is the opening of a new MND care centre in Leeds, allowing those living with MND and their families the best possible support.
Run For All is encouraging those of all abilities to take part – whether or not they are an experienced runner. The day will also play host to the existing Leeds Half Marathon and a family fun run.
Roger Hutton, joint managing partner for Clarion, said: "Clarion is very proud to be supporting the Rob Burrow Leeds Marathon.
"To play a role in supporting Rob Burrow's dream of opening a new MND Care Centre in Leeds, as well as supporting the MND Association, is a huge honour."
Sinfield said: "It's been amazing to see people in Leeds get behind Rob on his MND journey over the past few years, so to add Clarion's support as title sponsor is just fantastic.
"The Rob Burrow Leeds Marathon is a vital next step in ensuring we raise as much awareness as possible and help make Rob's dream of opening a new MND Care Centre in Leeds a reality."
Bob Bowman, CEO of Leeds Rhinos Foundation, said: "Leeds Rhinos Foundation is delighted Clarion will play a key role in supporting the Rob Burrow Leeds Marathon.
"The money raised through the Rob Burrow Leeds Marathon will help make this wonderful new centre for MND a reality, giving people living with MND and their families the best possible care."
Siobhan Curtis, marketing and communications director at Run For All, added: "We are extremely proud of our great relationship with Clarion which dates from 2007 and we are hugely appreciative of their continued support.
"This partnership solidifies not only Clarion's commitment to Run For All, but the wider community both here in Leeds and within the Yorkshire region."