Two key ingredients for start-up success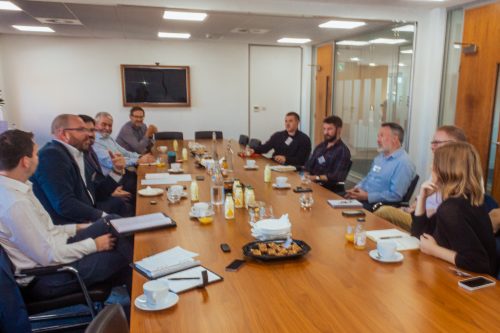 The latest in TheBusinessDesk's Intangibles series of breakfast roundtables aimed to discuss marketing and protecting your ideas.
But with several tech start-ups and start-up advisors around the table it was inevitable the discussion would turn to critical start-up skills: where to be flexible and where to be uncompromising.
"We've had to adapt constantly and consistently," said Chris Rabbitt, CEO of on-demand networking start-up Meeow. "We started out with a very, very pure idea of how we wanted things to be. Like any plan, it didn't survive contact with the enemy."
Frank Suttie, commercial director at Freeths, said that rather than change the product idea, changing the market might be effective. He cited experience with a start-up whose batteries were too advanced for the European market. "They looked at the bigger picture and discovered the areas, like Africa, where access to energy was limited. So they found a market for their product."
Michael Collins, business development manager with SME funder Boost&Co, warned the inability to pivot was the cause of many start-up failures. "Pivoting might take investment, it might take a lot of hard work, but that's where the real winners are born."
Jen Driver, client services manager at start-up marketers Zeal, said the failure to pivot was not always stubbornness but passionate commitment. "It's almost helping them understand that pivoting isn't change, it's evolution and adaption."
But if start-ups must change their ideas, their products and their customers, what is the constant?
"Values," said Rabbitt, to widespread agreement. "Values are absolute. It doesn't matter what you do, your values are the same, because that informs everything your business does."
But that is often an afterthought, said James McCann, director at digital marketers Bobble. "A lot of the younger businesses I work with don't have any values, vision or mission statement. It's just an idea, or a new place. It's often the businesses that are three, four years old and think 'we're scaling up now, we should establish what our values are.' You should have known these right from the start!"
Establishing and expressing your key values helped not only in keeping clarity of purpose through adapting or pivoting, but with fundraising and even recruitment. That could mean the difference between success and failure.
"If the founders don't set the values they want to trickle down to the whole business then you'll recruit poorly," said Ian Marshall, business advisory services director at Sagars. "And you've got a lesser chance of scaling up because the people you hire just won't work out. They don't have the same values as you."
Attendees seemed in agreement that your corporate values are vital intangibles. They aren't assets in financial terms. You can't list them on you balance sheet. But they are the foundation upon which everything else rests.
The Intangibles roundtable was organised by The BusinessDesk, sponsored by Freeths, Aon, Sagars and Boost&Co, and hosted at Freeths' Leeds office.
In the second article from this roundtable we'll look at IP assets, including when and why to protect them, when we'll hear from legal, funding and risk management experts including Andrew Robson from Aon, Frank Suttie from Freeths, Ian Marshall from Sagars, and Michael Collins from Boost&Co.