Ambitious Arc plans bend towards exciting future for Leeds
Successful places rely on thriving ecosystems, when each aspect of what is needed – including a skilled workforce, resilient physical and digital infrastructure, an attractive lifestyle offer, and vibrant communities and clusters – help to support and accelerate the long-term vision.
Leeds is a city which has developed strong momentum over a decade, from the opening of Trinity shopping centre in 2013 and the Tour de France Grand Depart the following year through to next year's City of Culture celebrations.
It has ambitions to build on its broad economic base and deliver inclusive growth for people and businesses across the city and wider region.
"We want to focus on stimulating innovation that is going to drive a healthier and more inclusive and a greener world," said Eve Roodhouse, chief economy officer at Leeds City Council.
"We need the most diverse set of entrepreneurs to get the best set of solutions to all of the problems we face and you are only going to get the best solutions if people have lived experiences.
"We have been very focused on the people and on the programmes that we need to have in the city, but you also need buildings and places and spaces where people can come together."
Leeds has recently revealed more details of its ambitions to create an innovation arc across 370 acres in the city centre.
It will be a series of innovation neighbourhoods, formed around the natural anchors of the city's main universities, the proposed adult and children's hospitals, and major private sector partners.
Victoria Critchley, development director for innovation at Leeds Teaching Hospitals NHS Trust, said: "It's a unique opportunity to bring forward a huge, critical mass of space to support the shared aspiration to bring forward the innovation arc.
"We are a major landowner in Leeds city centre. When we build a new hospital that will be about 12.5 acres of development land, and in addition to a new hospital, which is about 14 storeys high, there will be about 1m sq ft of development opportunity.
"We really want the Innovation Arc to be something that businesses and people that work here are involved in and don't see it as something that sits on a shelf, but it provides a really exciting backdrop to what Leeds can really do."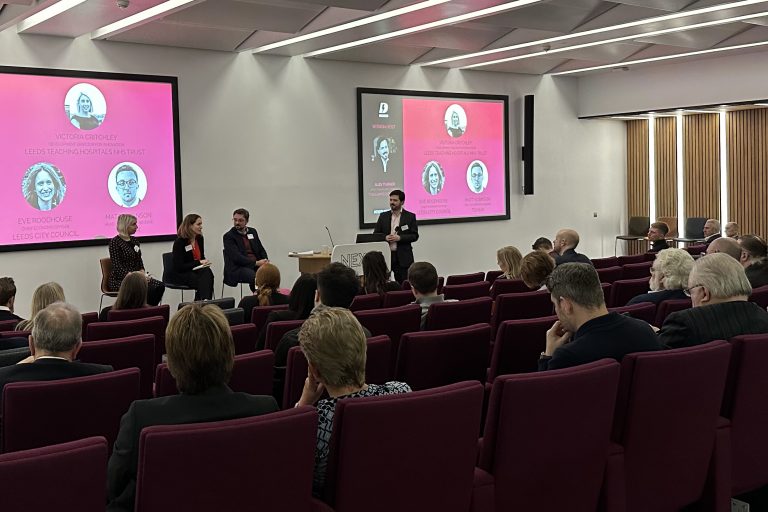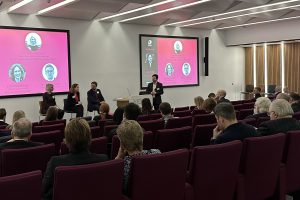 Matt Robinson, head of nations and regions at techUK, believes the Innovation Arc can build on the region's existing strengths around technology and innovation.
"We recently did our Local Digital Capital Index, looking at the strength of tech ecosystems across the UK, and West Yorkshire is in a good place, there are huge amounts of innovation going on," he said.
"We're quite good at shouting about the good things, but we need to be more candid about where we've got challenges.
"We have challenges in terms of digital skills – and we need to make sure we've got a talent pipeline coming forward – but also in terms of VC funding. I think the innovation arc is a really strong space for VC funding.
"66% of the funding going into the tech sector goes into London. We need to flip that model around and look at how we can do it.
"It is only by ambitious schemes like the Innovation Arc, and it is only by collaboration and building partnerships, that we're going to be able to deliver that because we need a compelling offer."

---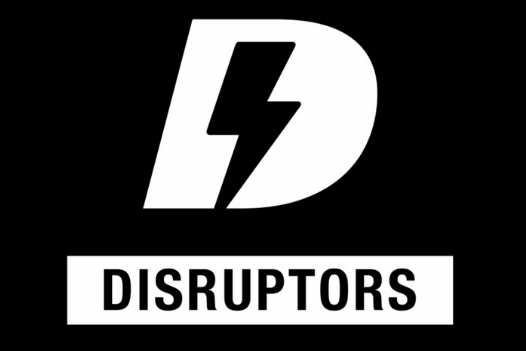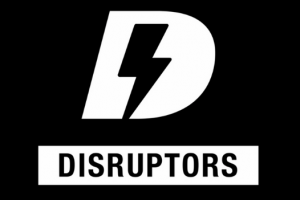 Disruptors 2022 brought together business leaders and innovators from across the North to inspire organisations to embrace disruption, to showcase some of the most exciting companies in the North, and to provide practical information to help people maximise opportunities that disruptive technology can bring.
The one-day conference was curated by TheBusinessDesk.com and supported by BHP, Brown Shipley, Clarion and Nexus.