Yorkshire Rainmakers 2023 winners revealed
2023's Yorkshire Rainmaker of the Year is Clarion corporate partner Jonathan Simms.
Clarion's corporate team has advised on 40 completed M&A transactions over the last 12 months and has retained its ranking as the most active law firm in the region for the past 5 years.
Jonathan joked that his goal had been survival. More seriously, he praised his team – "without them I'm dead in the water" and Yorkshire's finance community.
"This is a great community," he said. "I love working in this community. I talk about my team, I talk about all of you as well. So many days when if I'm not feeling particularly motivated, I  get out of bed because I know if I'm not talking to my clients, you will be."
Changemaker of the Year Nicola McQuaid  of NorthEdge formed and led her DE&I team with focused on values, behaviours and an inclusive culture.
She said, "It's important we embrace outside talent in our industry. The danger if we don't relentlessly pursue DE&I is that we lose out on really great people. My big ask to everybody in this room would be don't be a bystander."
Around 300 finance professionals gathered at the Queen's Hotel, Leeds, on Thursday evening for 2023 awards, hosted by stand-up comedian Jimmy McGhie. The awards, sponsored by Gilbanks, Hall Brown Family Law, Jacob Brian Tailors, Tyr and Vertu, were judged on a "one firm, one vote" basis following a shortlisting process in May.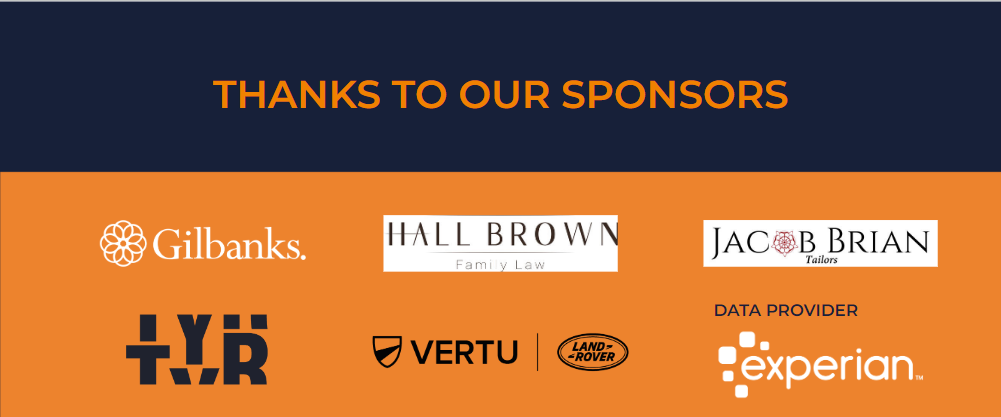 Category Winners and Runners-up
Rising Star
Sponsored by Tyr
Winner: Hannah Kirkup – Key Capital Partners
Shortlisted
Tom Hopwood – Addleshaw Goddard
Rob Johnson – BGF
John O'Gara – Sentio Partners
Connie Smith – Mercia Asset Management
Ben Taylor – KPMG
Teams – Transaction Services
Winner: Grant Thornton
Shortlisted
BDO UK
Dow Schofield Watts
KPMG
PwC
RSM
Teams – Legal
Winner: Addleshaw Goddard
Shortlisted
Clarion
Freeths
Gordons
Squire Patton Boggs
Ward Hadaway
Teams – Funder
Winner: HSBC
Shortlisted
NatWest
OakNorth Bank
Santander
Shawbrook Bank
ThinCats
Teams – Corporate Finance
Sponsored by Jacob Brian Tailors
Winner: Sentio Partners
Shortlisted
Clearwater International
Dow Schofield Watts
Grant Thornton
KPMG
Park Place Corporate Finance
Teams – VC/Private Equity
Sponsored by Vertu Motors
Winner: LDC
Shortlisted
BGF
Enact
Endless
Key Capital Partners
YFM Equity Partners
Individual Changemaker
Sponsored by Hall Brown Family Law
Winner: Nicola McQuaid – NorthEdge
Shortlisted
Megan Atack – Freeths
Alexandra Fogal – EY
Carly Gulliver – Addleshaw Goddard
Linda Nguyenova – BGF
Jeremy Thomas – Deloitte
Deals – Small Cap (up to £15m)
Winner: YorkTest Laboratories secured a £10m investment from NVM Private Equity: Squire Patton Boggs, Walker Morris, Ward Hadaway, Mazars, PwC, NVM Private Equity
Shortlisted
XR Games raised £5.9m in a funding round: Act Media Ventures, Praetura Ventures, Maven Capital Partners, Gateley, Lewis Silkin, Park Place Corporate Finance
Definition Agency secured £7m in growth capital from ThinCats: ThinCats, Freeths, Clarion, Ryecroft Glenton
Manufacturer Bartoline received further funding from Enact: Addleshaw Goddard, Enact, Gordons
Operam Education Group received follow-on investment by BGF: MFG Solicitors, Ward Hadaway, Dow Schofield Watts, BGF, Gordons
Tribepad received a £12m investment from BGF: BGF, Squire Patton Boggs, Tax Advisory Partnership
Deals – Private Company
Winner: Arc Inspirations received a £19m investment, from BGF to support the accelerated rollout of its Banyan Bar & Kitchen, BOX and Manahatta brands: Gordons, Squire Patton Boggs, KPMG, BGF
Shortlisted
My Pension Expert secured an eight-figure investment from Palatine Private Equity to support its growth plans: Addleshaw Goddard, Gateley, Park Place Corporate Finance, Capital, Kroll, Beechbrook, Palatine Private Equity
The Building Cost Information Service (BCIS) secured investment from LDC as part of a carve-out from RICS: LDC, Shoosmiths, Addleshaw Goddard, KPMG, PwC
Morrisons agreed a pre-pack deal with administrators PwC to acquire McColl's Retail Group: Ashurst, PwC
Twinkl secured an undisclosed minority investment from Vitruvian Partners to help further grow its international presence: Vitruvian Partners, PwC, Squire Patton Boggs
The Harrogate Cashmere Company secured an undisclosed equity investment from Anticus Partners: Mincoffs Solicitors, Ward Hadaway, Anticus Partners
Gravity Fitness secured £30m funding to support its expansion plans, including the opening of new trampoline parks: Guinness Asset Management, Sculptor Capital Management
Deals – International
Winner: Irish utilities group Beauparc Utilities acquired Acumen Waste Services: Burges Salmon, Clarion Solicitors, BDO, Park Place Corporate Finance
Shortlisted
Ligentia Group bought Polish logistics business VGL Solid Group: Addleshaw Goddard, Skadden Arps Slate, DC Advisory, Santander UK, Equistone, Ingka Investments, Varma Mutual Pension, Squire Patton Boggs
French manufacturer Verallia acquired Allied Glass Containers for £315m from Sun European Partners: DLA Piper, Addleshaw Goddard, White & Case, EY, Sun European Partners LLP
Spanish group Urbaser bought Biowise: Michelmores LLP, Ward Hadaway, Alvarez & Marsal, KPMG, Willis Towers Watson
German chemicals distributor Brenntag acquired Prime Surfactants: Addleshaw Goddard, EY, Sentio Partners
New York-based investment firm Cambridge Information Group acquired Emerald Group: DWF, KPMG
Deals – Public Markets
Winner: Marshalls acquired Marley, supported by a £187m accelerated bookbuild: Pinsent Masons, Slaughter & May, Grant Thornton, Numis Securities, Rothschild & Co
Shortlisted
Powerhouse Energy formed a joint venture with Hydrogen Utopia International to develop an operational waste plastic-to-hydrogen facility: WH Ireland
Benchmark Holdings raised NOK158m (£13m) in a secondary listing on Euronext Growth Oslo: Stifel/KBW
EG Group/Asda bought the fuel retail operations of Co-operative Group in a deal valued at £605m: Addleshaw Goddard, Rothschild & Co, PwC
Xeros Technology Group raised £6m in a share placing: FinnCap
Avacta acquired Launch Diagnostics in a deal worth up to £37m, part-funded by a £7m placing: Walker Morris, Stifel/KBW
Deals – Private Equity Exit
Winner: Phoenix Equity Partners exited Nexus Vehicle Rental after its sale to Equistone: Addleshaw Goddard, Squire Patton Boggs, Rothschild & Co, PwC, Park Place
Shortlisted
LDC exited Driver Hire owner Specialist People Services Group after a secondary buy-out led by Pricoa Private Capital: Akin Gump Strauss Hauer & Feld, Squire Patton Boggs, Clearwater
International, KPMG, Sentio
Marshalls acquired roofing manufacturer Marley from exiting investor Inflexion Private Equity Partners in a £535m deal: Pinsent Masons, Grant Thornton, Lazard, Numis Securities, Slaughter and May, Peel Hunt, Rothschild & Co, PwC
American REIT Sun Communities bought Park Leisure 2000 from a consortium led by investment firm Midlothian Capital Partners in a deal valued at £182m: Jones Day, Slaughter and May, Rothschild & Co
SLS Group bought laboratory products specialist Gem Scientific from Solingen Private Equity: Ward Hadaway, Dow Schofield Watts, RSM
French manufacturer Verallia acquired Allied Glass Containers from exiting investor Sun European Partners for £315m: DLA Piper, Addleshaw Goddard, White & Case, EY, Robert W Baird & Co
Deals – M&A
Winner: Hippo Digital acquired data consultancy The Data Shed: Grant Thornton, Squire Patton Boggs, Armstrong, KPMG, DWF, Vista Insurance, NatWest, Addleshaw Goddard
Shortlisted
AG Barr acquired Boost Drinks from its founders Simon and Alison Gray for up to £32m: Pinsent Masons, Piper Group
Progeny Group acquired The Fry Group, with four UK offices and four international offices: Squire Patton Boggs, Foot Anstey, PwC
LDC backed an MBO led by chairman Tim Williams and CEO Martyn Stevens of Cellhire Group: Walker Morris, Grant Thornton, KPMG, Virgin Money, LDC, Squire Patton Boggs
Redcentric bought the business and assets of data centres and network services from Sungard Availability Services, in a deal worth up to £18m: Clarion Solicitors, FinnCap
JCT600 acquired VW retailer Caygill Holdings: Gordons, LCF Law, Translink Corporate Finance, Grant Thornton
Individual Rainmaker
Sponsored by Gilbanks
Winner: Jonathan Simms – Clarion
Shortlisted
Will Arnold – Sentio Partners
Richard Hunt – Addleshaw Goddard
Barry Jackson – BGF
Paul Mann – Squire Patton Boggs
Duncan Morpeth – Grant Thornton