City centre Grade A office scheme to create 180 jobs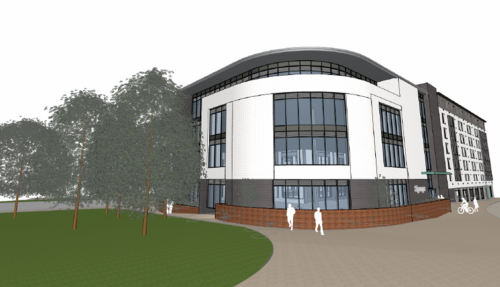 A new £8.96m four-storey city centre office is to be constructed by Derby City Council at One Cathedral Green on Full Street in a move that will create 180 jobs.
The new office, with basement car parking is planned to be delivered by Autumn 2020 and the whole building will be let as managed workspace.
The Council has agreed a deal with developers Wilson Bowden who own the site and an unnamed third party whuch has agreed to take a lease of the whole Grade A office building.
The investment from the Council also enables the simultaneous construction on the same site of new offices for UNITE the Union who will be buying the adjoining building for a new regional headquarters. When complete, the entire development will safeguard existing jobs and create as many as 180 new city centre jobs.
The Council says new development will complement the Connect Offer and increase the supply of larger Grade A office space, supporting adjacent regeneration initiatives such as the New Assembly Rooms and fulfilling a key objective of the Derby City Centre Masterplan.
Cabinet will be asked to approve expenditure and include the project in the regeneration capital programme with construction expected to start in summer 2019 and be completed in autumn 2020.
Cabinet Member for Regeneration and Public Protection, councillor Matthew Holmes, said: "There is a defined need for larger office spaces in the city centre. This new model of office development will enable business to grow, attract new occupiers and enable commerce to thrive. The project will complete the regeneration of a key mixed-use development and generate new jobs in the city centre".
"With this scheme, the Council are driving new commercial development in the s in the city centre, maintaining regeneration momentum and unlocking the potential to create a vibrant workplace environment for an expanding business community."