People: Law firm adds to dispute management team; Promotions at GVA; and more
Freeths has bolstered its dispute management team in Birmingham with the appointment of associate solicitor James Modley from Shoosmiths and the retention of Lauren Davies as an assistant solicitor.
Modley has experience in representing FTSE 100 companies, SMEs and high net worth individuals where he has assisted them in avoiding, resolving and if necessary, litigating a range of disputes. In addition to providing general dispute management advice, he specialises in advising high net worth individuals, sports stars and celebrities alike in relation to reputational management issues.
Within this field, he is expert in the misuse of private information including the prosecution of phone hacking claims against MGN, where he was instrumental in recovering significant damages for his clients.
In addition, the team has also seen its former trainee solicitor, Lauren Davies qualify as an assistant solicitor. Davies specialises in contractual disputes within a domestic but also international context.  She provides valuable support on substantial negligence claims against solicitors and other professionals.
Richard Coates, partner and head of dispute management in Birmingham, said: "We are delighted to welcome James and Lauren to the team.  James brings with him a wealth of experience to expand the team's already extensive litigation offering.  Lauren and James are part of our commitment to recruit and retain the highest calibre lawyers in the city and, as a result, the team continues to see fantastic growth, providing first class advice to our impressive range of clients.  Their appointments come at the time Freeths LLP is celebrating its tenth year in Birmingham.  James and Lauren join an ambitious and innovative team within an expanding national firm, which has seen continued significant year on year growth."
:::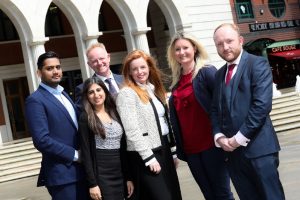 GVA has made a number of promotions within its Midlands regional office.
Sharon Reilly and Jon Kirby have been promoted to senior directors in the property management consultancy and planning, development and regeneration (PDR) teams respectively.
Miles Drew (PDR), Sahar Redley (Valuation), and Tanek Patel and Sheena Modi from the IT team have been promoted to associate level.
Carl Potter, regional senior director for GVA's Midlands Region, said: "In the Midlands, and across the UK generally, we are seeing the rapid growth and evolution of the real estate sector.  In order to ensure
that we are fit to meet new challenges, we need to both attract and retain individuals of the highest calibre.
"As a people-focused business, we recognise the hard work and commitment of our teams and this is exemplified in the diversity of business units and services represented in this latest round of promotions.
"To ensure that we remain successful in this highly competitive marketplace, it is imperative that we have in place both strong leadership and committed, energetic and focused teams.
"My congratulations to those who have been promoted both here and across our network of offices around the UK."
:::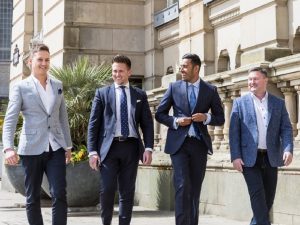 Woodrow Mercer has opened a finance department from its Birmingham head office and and has welcomed recruiters Minesh Parmar and Marcus Barnes to the team as associate directors.
They will be working on finance positions at various levels in and around the West Midlands region.
Woodrow Mercer's managing director Dan Ostrowski said: "Our finance office in Leeds have had an amazing 18 months and it was always the plan to open Finance Birmingham in 2018. We have spent a lot of time looking for the right people to do this for us and I have no doubt that Marcus and Minesh will enjoy great success here. They are very experienced and talented recruiters and will do the Woodrow Mercer brand proud."