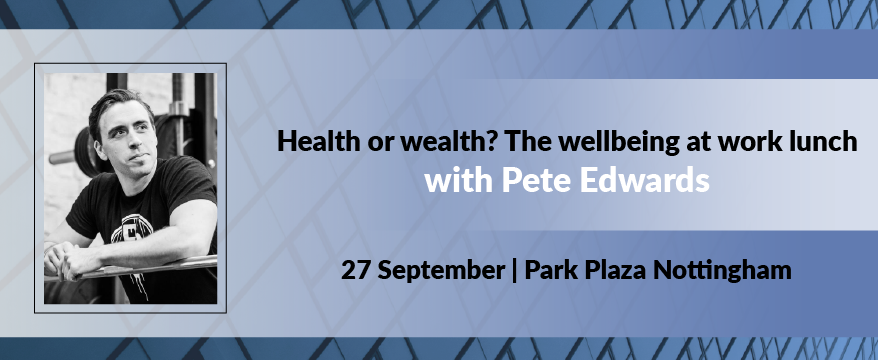 Friday
27 September

12pm – 3pm
£40 +VAT
includes a welcome drink and two-course lunch

Park Plaza Nottingham,   41 Maid Marian Way, Nottingham NG1 6GD
Sponsored By:


Health or wealth? How to deal with everything your working life throws at you
Can you really say you're performing to your potential at work if you're not looking after your health and wellbeing too?
At this exclusive lunch event TheBusinessDesk.com will be joined by the Nottingham Panthers strength and conditioning coach Pete Edwards who says that stress is ubiquitous and inevitable, but its harmful effects are not. Pete will reveal to guests what they need to know to deal with anything and everything life throws at you.
Pete has spent the last 17 years of his career helping people to perform better physically and achieve better health and wellbeing. His work has helped athletes to win nine medals in three different sports at either the European or world championship level. 
He currently works with The Nottingham Panthers as a performance specialist, and has helped the team towards winning three trophies in three seasons. Pete also trains numerous athletes from sports as varied as Brazilian Jiu Jitsu to basketball in his private facility in the heart of the Lace Market. 
Pete and his team at thrive health management also provide coaching in health and fitness to non-athletes looking to be as healthy and vital as possible. Thrive HM is a forerunner the emerging profession of health coaching, helping clients to achieve better physical wellbeing through education and coaching in nutrition, fitness, sleep quality, and stress resilience. 
Time to check on your wellbeing at work and at home by joining us at this fantastic networking lunch event.