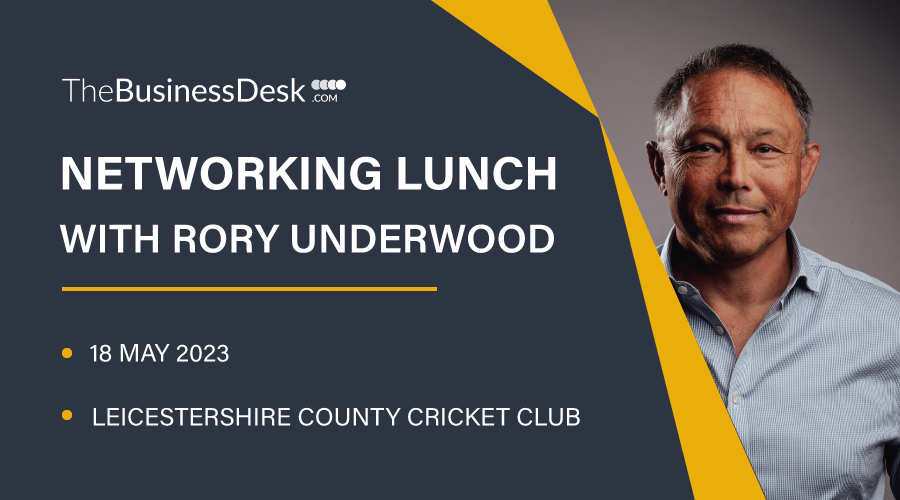 ________
Thursday 18 May
12pm – 3pm
Leicestershire County Cricket Club
________
Tickets
£50pp + VAT

________
Branding Sponsor


TheBusinessDesk.com is delighted to welcome a true East Midlands sporting legend as guest speaker at our May networking lunch.
Rory Underwood will join us at midday on May 18 at Leicestershire County Cricket Club to talk about his stellar rugby career – and how he has forged a very distinct niche for himself as a highly-regarded consultant.
Rory is probably best known for his international rugby career. Not only for scoring a record 49 tries for England (85 caps, 1984-1996) but also for winning 6 caps for the British Lions touring Australia (1989) and New Zealand (1993). Rory also played first class rugby at Leicester Tigers for 14 years. He spent 18 years as a pilot in the Royal Air Force flying over 3,000 hours on Tornados, Canberras, Hawks and Domines and was responsible for introducing Human Factors (HF) training into the RAF.
A consultant since 1999, Rory combines the wealth of experience from international sport, the military, extreme human achievement and the tried and tested formula of personal and team development to create processes for individuals, teams and organisations to inspire performance. He is an experienced facilitator, psychometric profiler and performance coach.
Book your tickets for what will be an unforgettable lunch event.
What to expect?
Networking/meeting contacts from across all sectors
Hearing from an East Midlands sporting legend
An arrival drink, two-course lunch & tea/coffee