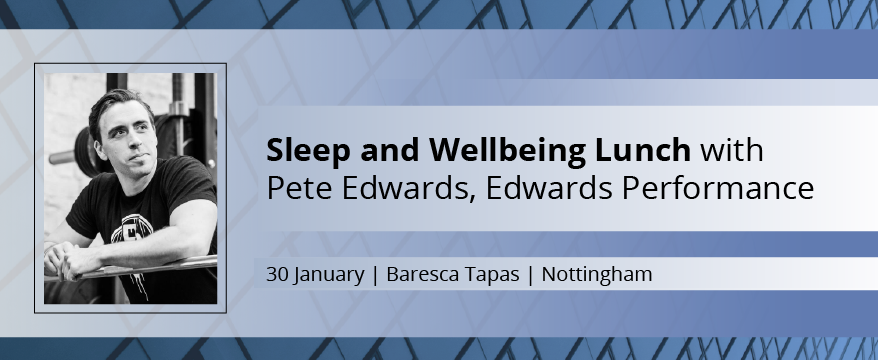 Thursday
30 January

12pm – 3pm
£45 +VAT
includes a welcome drink and two-course lunch

Baresca Tapas, 9 Byard Lane, Nottingham NG1 2GJ
Sponsored by:


In the second of our wellbeing networking lunches we'll be discussing how sleep – or lack of it – can impact on your performance at work.
Guests will joined by Nottingham Panthers strength and conditioning coach Pete Edwards, who says that high performers are both most likely to benefit from consistent adequate sleep – and most likely to neglect it. 
Pete's talk will share some of the more amazing and frightening facts about how sleep impacts our health and performance, and some of the most valuable insights about how to make sure you're getting enough. 
Adequate sleep blesses us with greater per-minute productivity, stress resilience, physical performance, faster learning, better memory, better immunity, easier weight management, longer life, and quite likely, greater success, says Pete – make sure you benefit from this invaluable event.