Nottingham gets ready to dance
A dance festival is set to return to Nottingham for its 24th edition next week, writes Bethan Tolley.
Nottdance festival, which is produced by international dance organisation Dance4, will see over 20 events take place over 5 days in the city centre. Taking place from March 8 – 12, the festival takes a future look at choreography in the UK and celebrates work from a range of UK artists.
The festival hub will be based from the new Dance4 facility on Dakeyne Street in Sneinton.
Nottdance 2017 is co-curated by choreographer Matthias Sperling, who will be leading the Nottdance Debates series throughout the festival. Born in Toronto in 1974, he studied with the Canadian Contemporary Dance Theatre before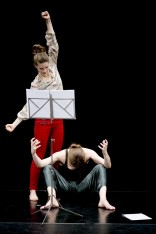 going onto dance with UK companies including Wayne McGregor's Random Dance and Matthew Bourne's Adventures In Motion Pictures.
There will be 3 debates during the festival discussing Politics, Museums and What Next? in the context of Dance.
The public are invited to come along to the talks and can send in questions for the debates ahead of the festival. Many of the events at the Nottdance 2017 festival are free to attend and there are many ways for audiences to be involved that go beyond watching a performance or visiting an installation.
Paul Russ, chief executive of Dance4, said: "Nottdance continues to be a vital platform to present new ideas for audiences. It is a festival that challenges perceptions whilst being playful and entertaining.
"We are delighted to be co-curating with Matthias this year and know that the Nottdance Debate series will ignite an interesting and important dialogue that will continue beyond the 5-day festival".
There will be a range of discussions and debates as well as breakfast events and morning classes, performances, research opportunities and performance installations at the Lace Market Gallery and Wollaton Hall.