Interview: Pete Burbidge, managing director, Pressac Communications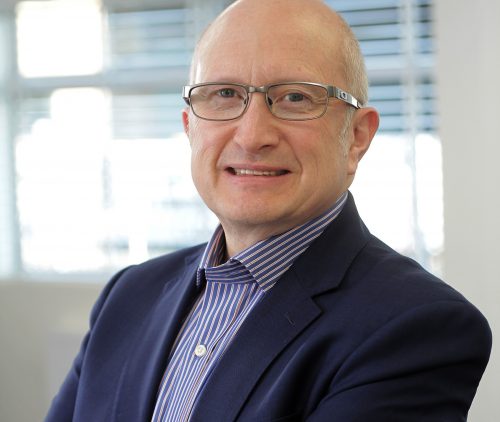 Sam Metcalf caught up with Pete Burbidge, managing director at Pressac Communications, to talk about how the Nottingham-based electronics manufacturer has diversified its offer from mass production of telecoms network points and automotive parts into developing smart building sensor technology.
Tell me the story of how you changed the company. What is the background, what prompted the diversification, and what new challenges have you faced?
"Established over 60 years ago, the Pressac name came from combining 'Pressed Accessories'. Our primary products were initially for the brown goods and automotive industries. We manufactured high volume mouldings and pressings, supplying components to respective markets.
Over the past 20 years we focused on component manufacturing here in the UK and in China. We developed a manufacturing pedigree and history of delivering good quality products, on time, becoming a safe pair of hands for blue chip companies. Our ability to redesign, engineer and upgrade products to meet next generation requirements became our core competency.
In 2006, we underwent a management buy out from the PLC and Pressac Communications became independent venture. The inherited pedigree and core competencies in turn key product development, manufacturing and aftersales support, together with ISO 9001, ISO 14001 accreditations assisted in stabilizing and growing our business.
Our in depth understanding of customer requirements and expected standards supported us to enhance and develop products for BT Redcare and Openreach. Designing and manufacturing in our Nottingham plant the Redcare 5G product range.
Keen to move away from being a component manufacturer and move into more value added offerings – we took a strategic decision to be ahead of the curve for Internet of Things (IoT) technology. We now focus on being the best at producing hardware and work with partners to deliver the software, to form a complete solution.
The Pressac proposition focuses on three core areas – energy management, environmental and occupancy monitoring that captures data to make buildings smart and helps monitor the usage and assets within a building. We've already got opportunities to work with energy consultants in the Netherlands, Germany and Belgium and are currently in discussions to bring the offering to the UK. Our products have been approved to sale in the UAE and we are also partnering with IBM and other providers to be able to offer software agnostic hardware that fits bespoke customer solutions."
Smart buildings are obviously the future – but are landlords willing to pay for them?
There is without doubt a need for data from buildings. With more regulation, environmental monitoring, wellbeing legislation and pressure to cut maintenance and management costs, the question is more about whether landlords can afford not to pay for them. The market in IoT for commercial buildings is going to grow and apply to existing buildings, not just new builds.
It is increasingly important for facilities and estates managers and commercial landlords to show that there is a system in place which can provide meaningful data for energy consumption, occupancy levels, air and temperature quality and space usage. Return on Investment (ROI) is not just on the physical piece of monitoring equipment, it is about upgrading your existing building to attract the right people, make sure your building is efficient from an energy, environmental and usage point of view. It is about maximising the efficiency per square foot, using right amount of energy in the square footage available to maintain a profitable asset.
How are employers responding to a new generation of staff that demand smart buildings?
Wellness will start to be a competitive advantage. You will have to put the technology in to demonstrate this to recruit and that is being driven by consumers and access to smart home kits.
Public buildings, universities and schools are likely to drive it to start with before it goes into the private sector. Health and wellbeing of employees and the performance of your building is important and to attract and retain the right talent.
With the huge rise in remote working, flexibility and responsiveness is key. Bigger Facilities Management companies are realising that from an FM basis, spaces need to be used in the most appropriate and efficient way.
How do you see the East Midlands manufacturing sector – what are the main challenges and opportunities?
There is strong need to re-shore products. The new IoT market may not necessarily be a huge volume market but technology is moving quickly so you need to be flexible and adaptable so there are advantages of manufacturing locally to be agile and responsive. Getting people to want to be engineers from schools is essential. We need to be up-skilling people to be able to work as a test assembly operator – not just a factory worker.
Finding skills in the East Midlands is very difficult. We've interviewed people as far away as Dover with the right skill sets in surface mount technology. Many people from Europe with the relevant skills are staying where they are due to the uncertainly of Brexit. Many of the master skills are not in place, therefore it is difficult to take on Apprentices as mentors are not always available to train them.
Geography has something to do with it – local engineers used to write hardware and software. Design can now be outsourced and subcontracted to the likes of Germany and Canada and you can do this as a virtual team. Manufacturing and engineering are different, you need people physically on site, on the shop floor and you need shift working patterns where people are present. We sometimes struggle to find those skills within a commuting distance.
What is the next big thing in smart buildings?
It is going to be about getting smart technology into older buildings – it is not just for brand new shiny buildings. It is about making your own business smart and learning from that data. Bringing old buildings into the 21st Century, retrofitting them to be smart.
Think smart and live smart. Improving the lifestyle of people, preventive maintenance and giving people warnings to be able to plan and be proactive, rather than reactive. People's lives are getting busier and we can't afford to not to find short cuts to make life easier.
And what does the future hold for Pressac?
Where we want to go now is to expand our team and keep developing our smart building technology solutions, in addition to developing smarter products with our current core customers. We're working on developing a number of smart starter kits for energy management, occupancy and environmental monitoring. These include a series of mini sensors to get an instant view of the energy at a machine, room or zone level. CO2, temperature and humidity sensors provide real-time data about the conditions around a building and occupancy monitoring sensors can detect and monitor occupancy of desks, rooms and spaces.
Our development is being guided by the market and our technology road map. We have recently secured approval for out telecoms equipment in the UAE and are working with the likes of IBM and others, including Sensorfact, on solutions for energy management in commercial buildings on a global scale. Everyone has bits of technology to capture data from buildings, but the true skill is putting them together and that's where we want to focus.
For more information on Pressac's smart building sensor technology capabilities visit www.pressac.com