Government plans talks with Notts leaders about Tier 3 shift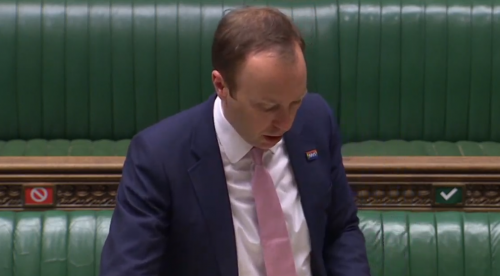 Nottinghamshire could be placed under Tier 3 Covid-19 restrictions at some point over the next seven days after the Government announced it will hold talks with local leaders.
On Monday afternoon, Health Secretary Matt Hancock told the House of Commons that further discussions are planned this week with South Yorkshire, West Yorkshire, Nottinghamshire, the North-East and Teesside about shifting to Tier 3 – the strictest of the three levels.
This is despite the average rate of infection dropping dramatically across the city of Nottingham. However, rates in certain city bordering areas with high student populations such as Broxtowe and West Bridgford in Rushcliffe remain high.
In the week to October 16, cases per 100,000 of the population stood at 641.3 for the city of Nottingham. Rushcliffe stood at 325.5, with Broxtowe at 289.4. The average across England was 158.9.
Meanwhile, the University of Nottingham has recorded a steep 50% decline in "active cases" among students and staff. The figure now stands at 592 – with 30 staff also having tested positive.
Nottingham City Council leader David Mellen said: "I am expecting to meet with Government this week, as they consider whether we should be placed under Tier Three restrictions. I will make it clear that we want a package that properly protects local people, businesses, jobs and education, whether it's for Tier 2 or Tier 3, and will need to speak to the Government first about the details of this.
"We have only just been placed in Tier Two and infection rates are coming down. I want to thank everyone for their ongoing efforts to follow the rules, stop the spread of the virus and help save lives and livelihoods.
"It's encouraging that the overall positive case numbers appear to be falling, but it is important to recognise there is a gradual increase in the over 65 age group who have tested positive, which could translate into more hospital admissions. Currently we remain in Tier Two and that still means observing Hands, Face, Space and the Rule of Six, as well as not mixing indoors with anyone not from your household or support bubble. If anyone believes they may have Covid symptoms, then it is important to self-isolate and arrange a test by calling 119."