Nottingham entrepreneur on a mission to rebuild hospitality sector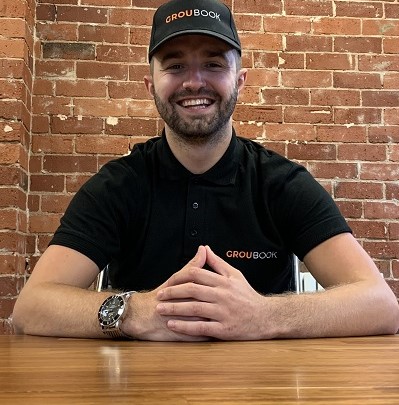 X

Register for free to receive latest news stories direct to your inbox
Register
A Nottingham entrpereneur has launched a new app aimed at helping people organise nights out.
Bradley Gough and his team had spent months planning the launch of their new app Groubook only to have their plans put on hold as Covid-19 closed down the hospitality sector.
Now, he is aiming to turn the crisis into an opportunity as his app allows bars and restaurants to sell pre-booked slots to customers, allowing them to effectively control numbers when Tier-3 restrictions are lifted.
After initial concerns, Bradley and his team are signing up independent bars and restaurants eager to use the app to control customer numbers when restrictions allow them to reopen.
Groubook lets groups book, organise and arrange nights out online and take advantage of a wide range of discounts and rewards.
Gough has launched the app with fellow founders Ollie Pod, chief operating officer, and Sam Famulare, chief growth officer.
Groubook launched in Nottingham in August just after the first lockdown restrictions began to ease and saw rapid initial take-up with numbers growing by 250% in the first six weeks.
But following this initial success Gough was forced to put his plans on hold as the pandemic forced further restrictions on the British public and the hospitality sector in particular.
Despite the current Tier 3 restrictions the Groubook team have already signed up a number of city bars and venues eager to utilise the app as a tool to control numbers when they are able to open their doors again.
Once successfully launched in Nottingham, Groubook will be launching in Lincoln, followed by Sheffield with ambitious plans to cover the UK by launching in a new city each month.
Gough believes the app can give independent bars and restaurants a head start when they're finally able to open for business and help them recoup some of the losses from the last ten months.
He said: "The last year has been a constant kick in the teeth for the hospitality sector. They've suffered more than most and as we go into the new year, who knows how many of our favourite bars and restaurants will still be open in the city?
"The support they've been offered has at times been an insult which is why when they do finally open, they need customers back through the door.
"That's where we come in. We want to give our local bars and restaurants as much support and business as we can to ensure their survival and at the same time reassure the public that they are COVID19 secure.
"The app means groups of friends can pre-book in a quick, easy and convenient way and take advantage of rewards and discounts we secure.
"In our first few weeks of trading, we grew by 244% which is impressive when you consider there were some restrictions in place.
"Primarily we're targeting Nottingham's millennial and student population. Our research has shown that 15% of the city's population is students which is a massive amount. The city has more millennials than any others apart from Manchester so the potential within the under 30 age group is huge.
"It's also vital we get the offer right for the bars and restaurants. We won't be tying anyone into a contract and are much more competitive to similar operators in the market."
He continued: "Our plans for growth are ambitious and despite everything that's happened this year, we're confident we'll achieve them.
"We've already won backing from investors for this first phase of the business and early next year will be looking for more investment to continue our growth.
"Once restrictions begin to ease, we're ready to go full steam ahead and support Nottingham's hospitality sector as it starts to rebuild."