'Helping people in their hour of need is what gives me a buzz'

Richard Pinder is director at Leonard Curtis Business Solutions Group, covering the East Midlands and South Yorkshire. He

graduated from university with a law degree before joining HSBC on a graduate programme. He left HSBC to travel the world for a year before returning to work as a finance broker within an insolvency company in Sheffield. He progressed to the insolvency side of the business before making the move to Leonard Curtis. Richard opened the Leonard Curtis office in the South Yorkshire/East Midlands region in 2015 and has a fast-growing client base.
---
Helping people in their hour of need is what gives me a buzz. Directors don't set out in business with a view to going through some form of insolvency process (well most directors don't). Inevitably though, businesses do face financial difficulties and directors need assistance when this happens. For business owners who have no experience of going through an insolvency process, this can be a very difficult time and helping them through it is one of the positive aspects of my role.
We need to face the unknown. Given the current situation with the pandemic and the uncertainty following Brexit, companies are going to be facing difficulties they have not previously encountered. The government has provided significant assistance for businesses to continue throughout the various lockdowns. However, at some point the furlough assistance will cease, repayments on CBILS and Bounce Back Loans will commence and deferred HMRC amounts from 2020 will need to be repaid. This is likely to happen at a time when turnover will be lower than normal and trading restrictions will probably still be in place. So, we do expect to see an increase in corporate insolvencies over the coming year together with an increase in bad debts and companies, who may have been able to navigate through their financial difficulties, begin to suffer.
Government support has delayed the inevitable for some firms. The biggest impact on corporate insolvencies has been the assistance provided by the government over the past 12 months. This is "propping up" some companies who were insolvent 12 months ago, but have relied on this assistance to keep them afloat. So, while the lack of corporate insolvencies to date is a positive for the economy as a whole, for many businesses it is just delaying the inevitable.
Pre-pack sales are often the best option. The biggest perceived change in our industry was the introduction of new insolvency legislation in an attempt to bring together the different insolvency laws in to one Act. However, this has not had a significant impact on the way in which insolvencies are carried out. The most significant change for me is in respect of pre-packs and the tightening of the rules regarding sales of businesses to connected parties. I understand the stigma surrounding a pre-pack and concern from creditors as a whole, but often there are no other interested parties in a business and a sale to a connected party is a better realisation than a forced sale of the assets at auction. Even where there is third party interest in a pre-pack, the incumbent management is usually so intrinsic to the success of the business, that the third party recognises without their involvement the business opportunity is not worth purchasing.
I try to deal with people how I would want to be dealt with. This is how I try to handle employees, directors, creditors, shareholders, professional advisers, etc. and I find that if you treat people in the right way it ensures ongoing co-operation. It also tends to make the insolvency process progress more smoothly. Early on in my career I would see directors of insolvent companies being made out to be scapegoats for the failure of the businesses, despite the reasons for the failure being outside of their control. I remember thinking that everyone deserves to be treated with respect and in doing so you are more likely to get people to co-operate, which is essential in what we do.
I've met some impressive people in my life and career. A long term friend of mine, Karl Hodson, first introduced me to networking almost 20 years ago and I made a number of contacts who would go on to shape my career. Steve Dunwell is someone I still work closely with and is one of those I met early on in my career and with whom I spent four years working as a commercial finance broker. He introduced me to a lot of influential people and certainly shaped the way I operate, how I interact with people and how I deal with clients and introducers. Finally, Sean Williams was the first person who interviewed me at Leonard Curtis. He guided me through the early days at Leonard Curtis, made sure I received recognition for my efforts and pushed me to progress within the organisation. I am still in touch with these people and continue to work closely with them all.
Work, rest and play. I really enjoy football, both watching and playing. I am a Liverpool fan so I haven't always enjoyed watching them, but the past few years have been a bit more upbeat! I still play football a couple of times a week – I'm not ready to hang my boots up yet – and I also get involved with coaching my son's football team. I also enjoy the gym although this is currently being replaced with home workouts and going running to keep fit. I learnt to ski at the start of last year and it's my new passion. I also run an events business with a friend of mine, called Network King, that organises events for professionals. This is my work away from work but I really enjoy it.
---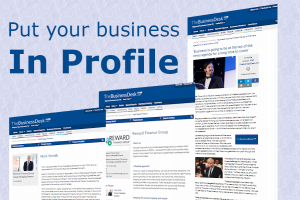 Appear in your own In Profile feature by signing up for a Business Profile on TheBusinessDesk.com.
The company and individual profiles on TheBusinessDesk.com are designed to help our clients build corporate and individual awareness within the regional business community and benefit from TheBusinessDesk's traffic and visibility in the business community and the search engines.