People: Hexa Consulting; Shakespeare Martineau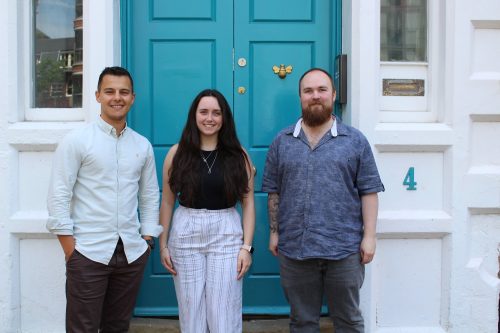 Nottingham-headquartered engineering consultancy Hexa Consulting has announced three new appointments.
The additions of Chloe Whitnell, Gethin Jones and Ricardo Vendone mean the fast-growing firm's team now stands at 26 people.
Senior technician Jones said: "I'm pleased to be joining the senior design team at Hexa, putting me in an environment where I can learn from those around me and continue developing my skills. I've jumped straight in and had the chance to look at some small industrial sites and a new leisure centre with Hexa, which have both been a fun challenge to design. I'm looking forward to getting more involved in drainage design, as well as running and managing my own projects."
Vendone, a senior engineer, brings a wealth of experience to Hexa having previously worked at Severn Trent Services (STS) and as a design and project engineer for a range of civil engineering consultancies.
He said: "I was drawn to Hexa because of its great community of people, and I am looking forward to resuming my work on the design side. My role will involve producing strategies, designs, models and reports for drainage and infrastructure, across various sectors such as educational, residential, commercial and industrial."
Chloe Whitnell joins as a graduate transport planner, having completed a degree in geography in 2021 followed by a graduate programme with DHL Aviation.
She said: "When I met with the team at Hexa, I felt they could offer me the expertise and support to help me in my goals of becoming a transport planner.
"I have already been introduced to working with AutoCAD, TRICs assessments and some of the government guidelines that are followed when writing reports. I'm really looking forward to learning everything there is to know about transport planning and developing my professional career, becoming independent and eventually having my own projects.
"The company has been very supportive and accommodating so far, and I am pleased to be working with people who want to see me develop in my career."
Shakespeare Martineau has appointed a new director to help grow its company secretarial and governance business.
Maddie Cordes will work with clients across the UK. She has previously worked for EY, Capita, TMF Group and as a company secretary for a range of listed and unlisted companies.
Cordes also spent three years as head of corporate services at an offshore law firm where she was responsible for a team of 50 across four jurisdictions, supporting more than 13,000 legal entities and providing board support for investor funds.
She said: "I am thrilled to have joined Shakespeare Martineau as a thriving and dynamic business and be given the opportunity to return to professional practice after working in-house as a company secretary recently to share my experience more widely. In particular, I am looking forward to developing new services and offering mentoring and training within the team and for our clients.
"I enjoy finding new opportunities and forging client relationships, so my top priorities in my new role are to raise awareness of the business in the marketplace generally and how we can help Shakespeare Martineau's wider client base and businesses, while also growing my own client base.
"Corporate governance is ever-changing and developing, and the role of company secretary is full of variety. There are always new ways to support our clients and the wider company secretarial marketplace with thought leadership and practical advice in carrying out the role."