People: Nottingham Venues; Persimmon Homes; Octavian Security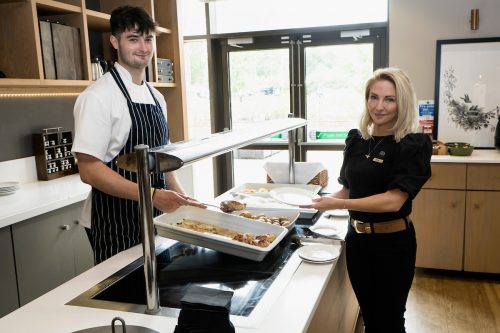 Nottingham Venues has appointed Suzie Adams as its new HR director.
The organisation brings meetings, events, hotel stays and a collection of venues across the University of Nottingham's campuses under one brand, employing almost 250 people.
Adams brings a wealth of experience to her new role following a career with some of the world's largest cruise line companies, including the Ritz-Carlton Yacht Collection.
Tom Waldron-Lynch, general manager at Nottingham Venues, said: "We are on a journey of growth and independence where we talk about being 'One Destination with Endless Possibilities.' A major part of that journey requires the best possible talent to join us as we strive to lead the field in our offering to guests and employees.
"Attracting someone of the calibre of Suzie is a big part of that, as she has incredible experience in both moulding and creating outstanding career experiences in the hospitality industry. We know that we have a superb guest experience across our venues and we want to create that same experience for our staff. Suzie will be invaluable in doing just that."
Adams added: "This is a wonderful opportunity to come into an organisation that is in a transitional phase from its previous corporate structure to a more independent approach. We all know that the pandemic presented the hospitality industry with a wide-ranging set of challenges and staffing is certainly one of them and remains so.
"However, here at Nottingham Venues we have a chance to create something truly special and unique for our growing team and I cannot wait to be part of this. There are already fantastic initiatives in place, including the 'real living wage', free meals when on shift and the 'Top Of The Tree' employee recognition scheme. My goal now is to work with Tom and his teams to create an experience that is truly remarkable and that will make us as much of a destination for talent as we already are for our guests."
Persimmon Homes Midlands has appointed a new managing director in Northampton.
Zac Hurst will lead the company's operations in Northamptonshire, South Leicestershire, Buckinghamshire and Bedfordshire, overseeing a team of 125 people.
Hurst joined Persimmon in 2016 as a quantity surveyor before making the step up to operations director earlier this year.
He said: "I am joining a great team and I look forward to meeting with our local suppliers and contractors who support us in delivering quality homes. Our recent 5-star quality rating is testament to the hard work of our teams and I aim to grow the business in an area of great opportunity.
"My focus for the business is firmly on ensuring a positive experience for all customers, delivering beautifully designed and well-constructed homes they can enjoy living in for many years to come."
Hurst added: "I hope to continue our work with the local communities where we are building. We have previously supported hundreds of small charities, schools, sports clubs and voluntary groups through our Community Champions funding scheme, and we are always keen to connect with good causes that enhance the lives of local people."
Octavian Security has appointed a new Armed Forces Champion.
Rick Todd was born into a military family and joined the Army in 1985, eventually becoming Corporal before making the move into security in 1999.
He joined Bingham-based Octavian as operations manager in July this year.
Armed Forces Champions work with HR departments to bring veterans, reservists and forces families into companies and assist them on their career path.
Reshma Sheikh, chairperson at Octavian Security UK, said: "We are proud of their Silver status through the MOD Employer Recognition Scheme, and our Armed Forces Champion is the 'go-to' person for any staff seeking advice on a range of matters."