'Significant' investment to bring forward new business hub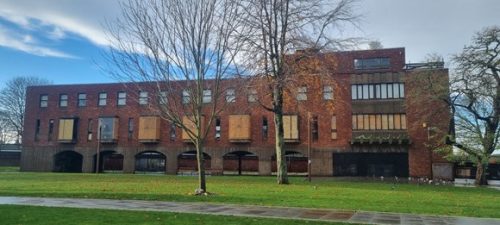 A new business hub is on the way in Grimsby town centre following a deal to sell St James' House.
Local company E-Factor has snapped up the vacant 1970s building, and has plans to bring it back to life using £1.5m from Grimsby's Town Funds allocation, backed by "significant' private investment.
The move provides a boost for the regeneration of the historic St James' Square area of the town and will pave the way for the building to be completely renovated and transformed into a business hub exclusively for local businesses.
Mark Webb, managing director of E-Factor, said: "We're absolutely delighted that we can now plough on with our plans to develop this building and provide quality business accommodation for a variety of local businesses and entrepreneurs right in the town centre. There will also be space for business events and small conferences, all aimed at supporting local business people. This is a significant investment for our company, but we are determined to continue to be part of the positive story of growth in this area.
"We recognise that this building has been empty for some time and with our investment, supported by the Towns Fund, we are confident we can bring it back to life.
"We are an independent limited company, but every bit of our profits are reinvested in supporting the huge contribution local business owners and entrepreneurs make to this town. E-Factor will once again be providing wrap around business support, easy in easy out terms and all the guidance we can give to help create and grow successful local businesses. The more people who do business in the town centre, the better it will be for shops and restaurants also located there."
North East Lincolnshire Council's Cabinet approved a business case to help renovate the building last year with the use of Town Deal money. Whilst not putting any council cash into the scheme, authority approval was needed to enable the release of Government monies.
North East Lincolnshire Council leader, councillor Philip Jackson, said: "The success of the Wilkin Chapman building on Cartergate and the redevelopment of St James' Square, a key heritage asset in the town, meant that the next step was to deal with St James' House in a way that can increase footfall in the town centre and provide benefit to other local businesses.
"I'm delighted E-Factor has taken this building on to bring a new dimension to St James' Square, a fantastic heritage asset in our town centre. We are extremely pleased to support this scheme."
E-Factor Group has been both developing and managing a portfolio of commercial properties around North East Lincolnshire for more than 12 years.
Property agents Scotts brokered the deal.