'Jewel in Lincoln's crown' to undergo comprehensive refurbishment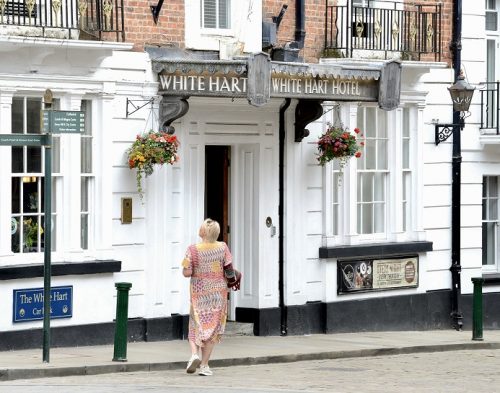 The White Hart Hotel in Lincoln's historic Bailgate is set to undergo a comprehensive revamp which its owner says will "maximise the full trading potential" of the venue.
The iconic hotel will close at the beginning of March to allow extensive refurbishment and improvement works to begin. It is scheduled to reopen in June.
A new club bar will be added while the White Hart's main lounge bar is treated to a full refit. A "sensitive" refurbishment of the ground and first floor function rooms, including the former Orangery/Eastgate Suite and King Richard Room, will take place, as well as a "significant reconfiguration" of the hotel restaurant. The latter will be rebranded and relaunched with a new frontage in July.
The hotel's reception will be relocated and six bedrooms will be revamped before the start of June. The remaining 44 bedrooms and suites will be refurbished in a "rolling programme" throughout the remainder of the year.
Local businessman Andrew Long, who owns the hotel, said: "Since acquiring the White Hart Hotel in July 2022, the intention has always been to maximise the full trading potential and to enhance the status of the full range of facilities. Our extensive refurbishment will respect the centuries of heritage in the building and its exceptional location.
"To now have a confirmed date for the commencement of the works is very exciting for the future of the White Hart, as well as a further 'milestone' for Lincoln's historic Bailgate and the surrounding Uphill area.
"We believe that the hotel will become one of the very best in the region, as well as remaining a popular and welcoming venue for our loyal guests, many of whom have known the hotel for several decades and generations."
The news follows the appointment of general manager Paul Noble in January.
He said: "There's nowhere quite like the White Hart and the uniqueness of this hotel is something which I'm very excited about. The world class location and the future potential are what have drawn me to this role and it's going to be one of the most sought-after Cathedral city hotels in the country once the refurbishment has taken place."
Long added: "Paul brings a huge amount of experience and energy to the role of General Manager. His appointment will be instrumental to the full delivery of our objectives to create a substantial jewel in Lincoln's crown."
Interior design concepts are being handled by DO Design. Building work will be carried out by Lindum Group in conjunction with other Lincoln-based contractors, with Luxury Hotel Management managing the project. John Robert Architects, building and quality specialists P&BC and property experts Banks, Long & Co are also involved.
The hotel is also working with renowned illustrator Chris Mitchell to develop a full re-brand in advance of its reopening in the summer.