Europe's largest brickmaking factory opens for business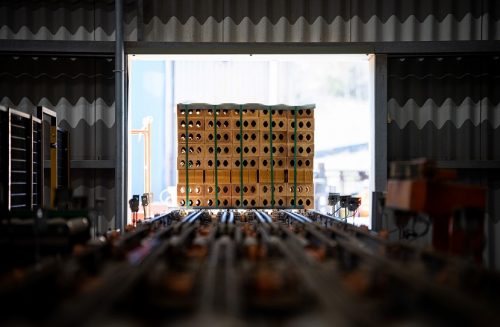 East Midlands brickmaking giant Forterra's new factory in Desford has officially opened for business, with the first consignment of bricks being despatched from the humungous plant.
The Leicestershire facility is the largest brick manufacturing plant in Europe, and following £95m worth of investment from Forterra is capable of producing a massive 185 million bricks per year.
The first despatch from the site – consisting of 23,740 Cheshire Red Multibricks – has been delivered to housebuilder Taylor Wimpey, marking the culmination of a project which began over four years ago. When the factory reaches full operating capacity, it will despatch over 1,000 packs of bricks per day and produce enough bricks to build 24,000 new homes per year.
The upgraded site will emit approximately 25% less carbon dioxide per brick than Forterra's old factory.
Forterra CEO Neil Ash said: "With ambitious ESG targets for 2030, we know that sustainability has to be approached holistically. Which is why at Desford we've incorporated advanced sustainability mechanisms across all aspects of production, packaging, and delivery.
"The factory's impressive production capacity will ensure we can manufacture hundreds of millions of bricks per year using a process that has been streamlined to be efficient and sustainable while satisfying the ongoing demands of our customers.
"The Desford factory complements several other investments and developments Forterra have made over the past year, such as a solar farm, which will render 70% of our power usage electric by 2025; a new eco-fleet of trucks, which will reduce our transportation emissions; and new packaging solutions, which place us a step closer to our goal of attaining a 50% reduction in single-use plastics by 2025.
"We're delighted that the first load of bricks has been despatched, and eagerly await the full factory opening in May."