Plans revealed for unique burial site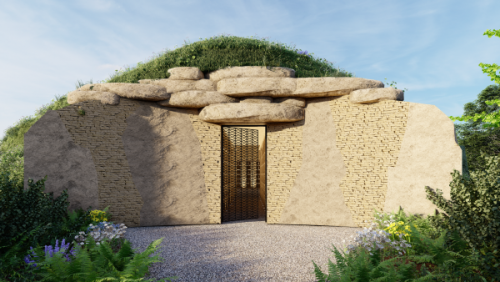 A planning application to build the East Midlands' first barrow site in Calverton has been submitted by Nottinghamshire independent funeral directors A.W. Lymn The Family Funeral Service, in partnership with the world's only barrow design and construction business Sacred Stones.
Plans for the barrows, which draw inspiration from our ancient ancestors' monuments, were submitted to Gedling Borough Council in January this year.
Planning permission for the site to be a cemetery had been granted last year, and this new application for the addition of one closed and two open barrows on a small part of the cemetery site is now awaiting approval.
Following planning approval, people in Nottinghamshire will have the opportunity to commemorate those who are no longer with us.
Located off George's Lane outside the village of Calverton, the barrow will be a complex of two open chambers and one large round barrow. The ritual of using burial mounds (barrows) dates back millennia and Sacred Stones are responsible for reviving the craft of building these stunning monuments.
The site forms part of A.W. Lymn's plan to extend its offering as it continues to expand across the region, with a total of 27 funeral homes throughout Nottinghamshire and South Derbyshire.
Pete Clarson, commercial cirector at A.W. Lymn, said: "We plan to create a multi-functional cemetery capable of supporting a variety of burial options, respecting the character of the site's rural context, whilst also enhancing the potential of the site for wildlife."
Toby Angel, managing director of Sacred Stones, said: "We've been working on the barrow scheme with A.W. Lymn for some time now and we are honoured to be working with a family business that, like barrows, has and will continue to stand the test of time."
Clarson added: "A.W. Lymn are very excited to be working alongside Sacred Stones on this project. The cemetery is a significant step for us in our company's history. We're continuously looking for ways to expand our service offering to those in the region and the addition of the barrows to our new cemetery has the potential to offer exactly that."