On the move: the latest East Midlands hires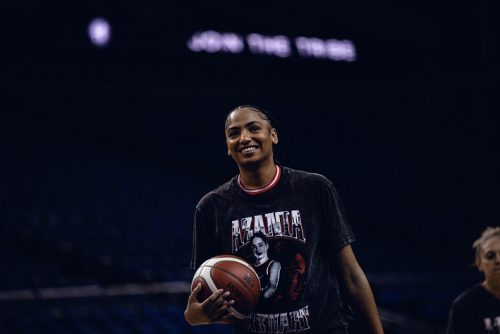 The British Basketball League has appointed former London Lions star Paige Robinson as its new marketing assistant.
Robinson joins the Leicester-headquartered League's marketing department following a highly successful on-court career which has seen her pick up ten Women's British Basketball League titles, including, most recently, the Play-off trophy at The O2 Arena in London.
Outside the sport, Robinson achieved a Master's degree in Sports Management at the University of Florida.
She said: "Everything I wanted to do after playing in America was leading to a position in the business side of the sport. It's not that I don't enjoy basketball, but there's so much of me that wants to give back to the game, and I feel that now is the right time to do so.
"Whether that is sharing my knowledge of the sport, helping the kids, community work, anything I can do to give back, that's what makes my heart smile.
"I can't wait to help with the fantastic work that is already taking place in the British Basketball League and continue to grow the game."
Joe Edwards, head of marketing for the British Basketball League, said: "We're delighted to welcome Paige to our growing marketing team within the League. This a really exciting addition to our marketing efforts – having someone of Paige's know-how and knowledge of the sport will play a huge part in bringing the league to new audiences both domestically and beyond.
"It's also vitally important for the league to utilise the knowledge and experience of our players wherever possible, so to be able to provide Paige with this opportunity as she transitions from her career on the court is very rewarding. We look forward to working with Paige going forwards on some big and exciting initiatives we have planned for the new season."
Elsewhere, metal recycling and waste management specialist Ward has bolstered its commercial team with a pair of new hires.
Mick Roots joins the Derbyshire firm as national construction manager, with Kieron Shanks stepping into the newly-created role of senior bid-manager. Both will be based at the company's headquarters in Ilkeston.
Roots brings 25 years of sector experience to his new role. He will be responsible for developing Ward's customer base of key national and regional tier 1 construction contractors.
Meanwhile, with nine years' bid management experience, Shanks will be responsible for increasing bidding capabilities and driving the bid function for Ward's entire offering.
Heather Foo, head of purchasing (metals) and sales (waste) at Ward, said: "It is great to have Mick on board to further enhance the waste team and the wider business. His experience and passion shines through and we are very pleased to have him as part of the Ward family.
"The business is equally thrilled to welcome Kieron to the team, who will have a key role in expanding the business through the bid process. This is a new role for Ward and one that will see the business grow through focusing on winning work through tenders. With Kieron's experience, knowledge and enthusiasm, we are excited to see this develop."