Green light for 1.4m sq ft logistics buildings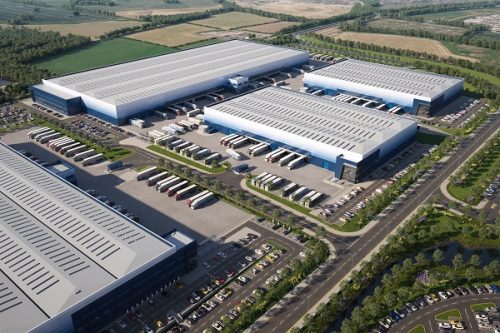 GLP is set to speculatively develop 1.4m sq ft across four units in Magna Park Lutterworth (MPL).
GLP has received planning permission for four new warehouses, three in Magna Park South, MPS Unit 9 (388,000 sq ft), MPS Unit 10 (119,000 sq ft) and MPS Unit 11 (136,000 sq ft) and one building in Magna Park North, MPN 5, measuring 761 000 sq ft. All units are due for practical completion by the end of Spring 2024.
MPN 5 will be a Breeam Outstanding building with all three other developments planned to achieve Breeam Excellent. Each unit will be net-zero in construction and independently certified by the Planet Mark.
GLP will also be supporting customers to reduce energy and operational costs, by providing a complimentary Planet Mark program to help monitor, track and reduce their respective carbon footprint.
GLP are currently building a 200-acre Country Park enhancing the park's facilities and providing recreation areas for both customers and the wider community.
Last year, GLP also partnered with North Warwickshire and South Leicestershire College, and Wincanton to house The Centre for Logistics, Education and Research (CLEAR) – a unique research, innovation, education, and training facility for both customers on the park and the wider logistics industry.
In the last two phases of spec development, the park has welcomed customers such as Bleckmann, Iron Mountain, LX Pantos and Unipart.
Joe Garwood, senior development director at GLP, said: "We are extremely pleased to announce such a significant level of speculative build across our flagship UK logistics park. This is a testament to our confidence in the resilience of the UK logistics market and the strategic importance of the Midlands in particular.
"We have seen huge success with our speculative development programme at Lutterworth to date, attracting a wide range of top-tier customers, and we're confident that we will see strong demand for this new space. Once finalised and occupied, the four units will generate hundreds of employment opportunities and contribute towards the economic growth and commercial upskilling of the Midlands region."