Land Securities Group agrees £190m cash deal for U+I Group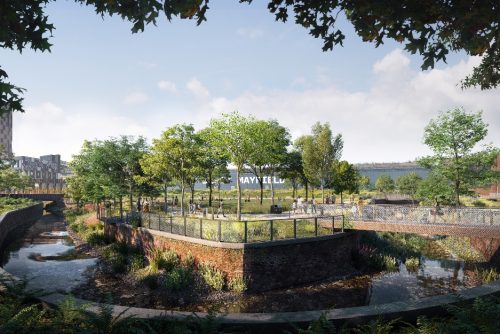 UK commercial landlord Land Securities Group is set to buy U + I Group, valuing the property regeneration firm at £190m.
The acquisition is an all-cash offer for U+I by Landsec Development and has been unanimously recommended by the U+I directors.
Regeneration company U+I is leading the £1.5bn Mayfield development in Manchester as well as a £300m regeneration scheme in Edgbaston, Birmingham.
Landsec set out a strategy in October 2020 to recycle investment to "drive growth and generate higher returns," including through urban opportunities in London and other major regional cities.
It said the acquisition accelerates that strategy, adding "an attractive pipeline of mixed-use urban development opportunities along with complementary skills and expertise."
The London-listed, commercial-property developer and investment company said it is paying 149 pence in cash for each U+I share, a 73% premium to its closing price of 86 pence on Friday.
Mark Allan, CEO of Landsec, said: "Developing truly world-class mixed-use communities that inspire and create opportunity is more important than ever.
"The combination of Landsec and U+I is compelling and will help us accelerate our strategy, both by introducing exciting new Urban development opportunities and by further strengthening Landsec's front end development capabilities and placemaking skills.
"Landsec has tremendous potential and this transaction is an example of our ability to capitalise on our strengths and create future value for all of our stakeholders – investors, employees, communities and partners alike."
The acquisition is good news for U + I which put all its schemes under review earlier this year when the group reported half-year pre-tax losses of £50m due to challenges brought on by Covid-19 pandemic and Brexit.
Commenting on the acquisition, Richard Upton, CEO of U+I, said: "This acquisition represents a compelling opportunity to bring together two companies with strong and clear complementary value systems. U+I's core portfolio of large, mixed-use regeneration schemes can now achieve its full potential with the capital, experience and market positioning that Landsec can provide.
"U+I's purpose to effect valuable social and economic changes through authentic, inclusive regeneration is an important proposition for Landsec and the wider industry.
"This acquisition demonstrates confidence in our highly skilled and valuable team and for our many joint venture partners.
"Our strategy to re-focus on what we do best has proved to be highly effective in capturing value for our existing shareholders and providing Landsec with an opportunity to unlock future value from our regeneration pipeline. We look forward to a hugely productive and exciting new future with Landsec."