Bohemian heart of Liverpool set for big makeover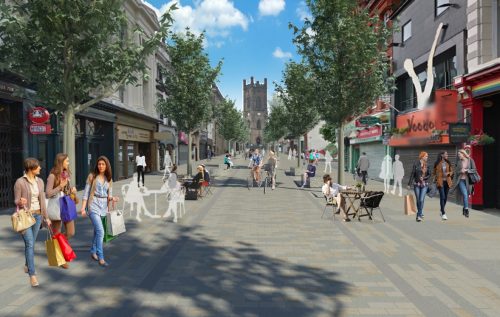 A multi-million pound makeover is set to transform the bohemian heart of Liverpool.
Liverpool City Council is looking to pedestrianise the full length of Bold Street to boost the emerging café culture and music scene in the historic Ropewalks area of the city centre.
The scheme will be split into two phases. The first will be Bold Street and Seel Street and the second, Wood Street, Fleet Street, Slater Street, Colquitt Street.
Funding of £4.5m has been secured for phase one which is part of Liverpool City Region's Sustainable Transport Enhancement Package (STEP) with £3m provided from the Local Growth Fund and £1.5m coming from section 106 funds the city council has collected from residential and commercial developments in the city centre.
As part of the Ropewalks proposals there are opportunities to improve the area including installing new and improved seating and lighting, planting new trees and improving safety for pedestrians and cyclists.
The council, which recently completed an upgrade to St Luke's Church at the top of Bold Street, is also looking to reverse the one-way traffic system on Seel Street, running from Gradwell Street to Berry Street and losing Seel Street between Colquitt Street and Slater Street at night time.
The aim of the proposals is to reduce the amount of traffic collisions, improve the connections to and around this area of the city centre, and support and help attract future investment.
The city council is holding a public consultation event on the proposals on Monday (March 19) The Box at FACT, 88 Wood St, from 2pm to 8pm.
Cllr Ann O'Byrne, deputy mayor of Liverpool, said: "Bold Street and the Ropewalks area in general has transformed in the past 10 years as the edgy bohemian heart of Liverpool led by a new wave of creative, independent businesses.
"Both the daytime and night time economies in this part of the city centre has flourished and created new demands in terms of traffic and the time has come to provide some solutions.
"Pedestrainising the full length of Bold Street has the potential to cement this amazingly colourful, vibrant street as one of the most dynamic in Britain.
"The business community, their customers, residents, visitors have all been talking about the need for a safer, greener and more user friendly street and I'm delighted we've been able to secure the funds to begin delivering that."
Steve Rotheram, Liverpool City Region metro mayor, added: "Bold Street is a superb example of an area given new life by the energy and entrepreneurialism that independent businesses bring and is one of the city region's real success stories.
"As a combined authority we are very happy to support these exciting plans which will help Bold Street go from strength to strength, by making it an even more attractive place for people to visit and enjoy."
The Ropewalks scheme is part of Liverpool City Council's wider £300m Better Roads programme, which also includes a new city centre connectivity scheme that will begin this Autumn and will see a radical reshaping of Lime Street and Queen Square and Paradise Street bus stations, with the introduction of a new city centre bus hub.