People on the Move: Dreamr; Medilink; Pannone Corporate; Trust; Calrom; HRC Law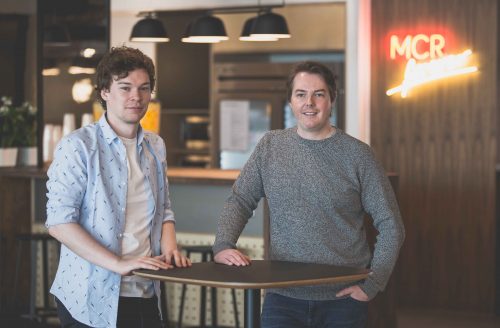 Manchester-based app development agency Dreamr has strengthened its team with two senior appointments and welcomes Phill Clarence as head of development and Matt Roe as marketing manager.
Phill brings more than a decade of experience to Dreamr and in his new role will be responsible for leading the design and development function of the agency while providing advice and guidance to clients and growing and nurturing the team.
In his role as marketing manager, Matt will work with Dreamr clients to develop marketing strategies for the apps that the development team create, an offering which has been driven by client demand.
With a focus on digital solutions and strategies, Matt uses his experience to combine creativity and his ability to analyse data to deliver and demonstrate results.
On the appointments, chief executive Jack Mason, said: "2018 is already turning into a great year for Dreamr after winning a raft of great new projects. Phill and Matt are both a very welcome addition to the agency and are ready to inspire and help lead the team and direction of the agency as we continue to grow."
Established in 2014, Dreamr is a multi-award winning app development agency which creates mobile apps on iOS and Android for entrepreneurs and enterprises. Virtual Reality is also a core part of its service offering.
::
Health sector support body, Medilink North of England, which has an office in central Manchester, has appointed Mary Hickey as a new senior PR officer.
She will work at Medilink's Smithy Wood Business Park office alongside Jason Brannan, PR and communications director, providing PR and communication services to Medilink members and the wider health sector.
Ms Hickey, who holds a BA and an PGDip, previously worked at the University of Sheffield.
She said, "I've arrived at Medlink at a really exciting time – the healthcare sector is advancing every day and I look forward to working with a range of innovating and interesting clients."
Mr Brannan said: "Mary is a major addition to the Medilink team and her experience in strategic communications will provide support to help health organisations grow and deliver better solutions to improve patient care."
::
Pannone Corporate has appointed six lawyers to its expanding commercial teams.
Real estate litigator Gemma Staples has joined the dispute resolution team as a director.
She was previously at Eversheds where she was a senior member of its Manchester real
estate litigation team. She has 15 years of experience in advising on a wide range of complex and high value
property disputes and acts for corporates, developers and landlords.
Rhian Greaves has also joined the regulatory team as a director. She specialises in
defending criminal regulatory investigations and prosecutions primarily in health and safety and
environmental cases and joins the firm from Clyde & Co.
Harriet Sutherland has been appointed as a senior associate in the corporate team. Harriet
joins from Kennedys and prior to that worked at Ward Hadaway.She has a wide range of
corporate finance and private equity experience.
Meanwhile, the commercial team is welcoming Suzanne Townley as a senior associate. Suzanne is joining from Myserson and prior to that worked in-house at the commercial/IT team at NCC Group and Addleshaw Goddard.
Joining the dispute resolution team from Aticus Law as a solicitor is Elizabeth Walsh. Prior to Aticus Elizabeth worked at DWF for several years.
Lastly, solicitor Helen Porter has become the newest member of the real estate team. Helen previously worked in the real estate team at TLT in Manchester.
Pannone Corporate managing partner Paul Jonson said: "We are delighted at the arrival of Gemma, Rhian, Harriet, Suzanne, Elizabeth and Helen and wish them well with their careers here."
::
Branding and digital agency Trust has hired a senior web developer to lead its fast-growing digital team.
Tim Giblin joins the agency with a wealth of experience in delivering high quality front-end development from top agencies like Holdens, BJL and the E word.
He'll be overseeing the build of websites for a range of clients including big-name brands such as the University of Manchester and Pioneer DJ.
Trust is quickly building a UK-wide reputation and client-base from their offices in Stockport, and Tim will be responsible not only for building websites with a focus on visual design and user experience, but also determining best practices for site development, and overseeing a team of developers.
He said: "I'm made up to join Trust, especially at such an exciting time for the agency. We're winning loads of great new projects to work on and growing our web development team to support this.
"We're getting a reputation for fantastic digital work and I'm hoping to help the team achieve their ambitious growth plans in this area over the coming years."
Tim's hire is one of a few recent moves to beef up the internal team at Trust. The agency has also welcomed Bethan Lumb and Rebecca Wakefield, who joined as designer and project manager, respectively.
Trust managing director Stuart Bradley said: "2017 was a year of frankly incredible growth for Trust. This year we're making some key new appointments, and targeting more global brands to add to our growing portfolio.
"Excellent web developers aren't always easy to come by so I'm absolutely delighted to be able to welcome Tim to the team. We're creating a team of creative equals built on a culture of trust and trying and do this whole 'agency' thing better."
::
Travel technology provider Calrom has appointed Simon Wilkins as its new chief technical officer, taking over from Jon Fisher.
Mr Wilkins, previously chief technology officer at aviation technology company Ultra Electronics, started his new role on May 7.
He brings to Calrom 14 years' experience of developing, and delivering mission-critical software platforms which have been implemented in major international hub airports such as New York, London Heathrow and Beijing.
At Calrom he will ensure the company continues to embrace innovation to develop market-leading technology platforms for customers, driving forward solutions such as groups next gen, which enables airlines including Qantas to manage the entire group booking process.
Managing director, Michael Edwards, said: "With Simon's vast technical expertise and his strong leadership skills, he was the obvious choice to ensure Calrom continues to provide pioneering software solutions for our airline partners.
"His strategic and innovative thinking will fit perfectly with Calrom's principles and way of working, and we are delighted to welcome him to the team."
Mr Wilkins said: "I'm looking forward to helping to continue to grow the company's technology and software solutions."
Calrom is a part of the Travel Innovation Group, the company was established in 2007 and supports sister companies Lime and Aviate.
::
Full service commercial law firm, HRC Law, has promoted Sherrelle Scott to associate.
She has been with the firm since its launch in 2013 when she joined as a paralegal. The firm celebrated its fifth birthday last month.
Having qualified in 2015, Sherrelle developed a specialism in corporate and commercial work and works closely with partners Mark Traynor and Richard Life.
She said: "Both myself and the business have come a long way over the past five years.
"Working within a fast-growth firm I've been able to gain rich experience from day one which provided clear direction in terms of finding my specialism and a route for career progression."
The firm has also offered a training contract, now formally known as a "period of recognised training", to Joseph Rogers.
He also worked within the corporate and commercial team as a paralegal where he specialised in M&A, with a particular focus on the private equity market.
He said: "Working closely with the partners at HRC Law has supercharged my progression and I'm looking forward to further developing my career with the firm."
Managing partner, Simon Whitehead, said: "We strongly believe in a culture of support at HRC Law and are focused on the continued development of our team – the very people that make our business so successful and our greatest asset.
"At any stage of a career, it's important to be able to see a clear development path and we endeavour to provide this across the board."