Combined Authority funding bids tick the right boxes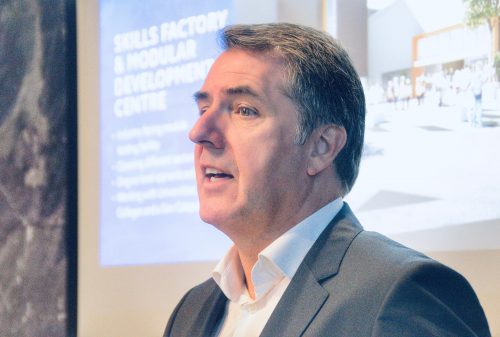 Liverpool City Region has refined its links with Whitehall to win vital regeneration funding.
Metro Mayor Steve Rotheram said by working together the Combined Authority is able to submit coherent proposals for the good of the region, and the country, to kick-start developments.
Speaking at a Downtown in Business event at Liverpool's Malmaison Hotel this morning focused on housing and regeneration – in particular Peel Land & Property's £4.5bn Wirral Waters scheme – he revealed the authority has won almost £200m of extra funding.
He said in the past the region had lacked focus and its local authorities had tended to compete against each other: "We haven't had a single body strategically providing us with direction, like Manchester has.
"Our districts have often competed with each other, but, enter stage left the Combined Authority which will help us work together to pull in the same direction and provide a vision for the 1.6 million people in the Combined Authority area."
He revealed: "We provide evidence-based opportunities for UK plc. We have to work hand in glove (with government) and in the past seven months we have got £187m over-and-above our devolution figures."
Creating new housing stock for the area, and attracting skills and talent to the region, is a key target, which is being bolstered by impressive progress, he said.
"We are the fastest growing city region in the whole country and we are outperforming the rest of the country by 1.5% in GVA. We are the fastest growing outside London when it comes to getting houses out the ground.
"But we want to attract and retain the skills and talent in our region. There will be new homes for those moving into the city region and better quality housing stock."
He said the Combined Authority has helped create 11,000 homes in the past few years, and is now on course to develop 5,000 new homes per year.
The body has also developed a brownfield register which has identified space for 40,000 new homes, which it hopes the Government's housing accelerator, Homes England, can help to deliver.
One of the biggest regeneration schemes in the area is Peel Land & Property's 500 acre Wirral Waters project.
Initial plans include office and educational facilities, but also major housing developments.
In January this year Peel signed a joint venture deal with Manchester-based developer Urban Splash to work on a £60m scheme involving modular-build homes, built in a dedicated factory and assembled on-site.
Richard Mawdsley, Wirral Waters development director, said this will help deliver 1,000 new homes between now and 2022 as part of a £220m investment by 2023.
And he said the project can help redress the balance of investment levels coming in to the area: "Wirral Waters is a catalyst to re-populate Birkenhead.
"It is an exemplar project and a holy grail for regeneration," he said.
Catherine Holmes, senior area manager Homes England, backed the Wirral Waters vision. She said: "Wirral Waters hits almost every one of our policy targets. We are hugely supportive of the project going forward."
And Simon Humphreys, director of development, Urban Splash, said its modular building model will not only help kick-start Birkenhead's regeneration, but also develop new skills for the area.
"We are working with Peel and Wirral Metropolitan College to get the right skills to build our modular homes.
"We want to build 2,000 or more homes a year. We need a super-factory and people to fill that factory."