Latest phase in revolutionary housing scheme launched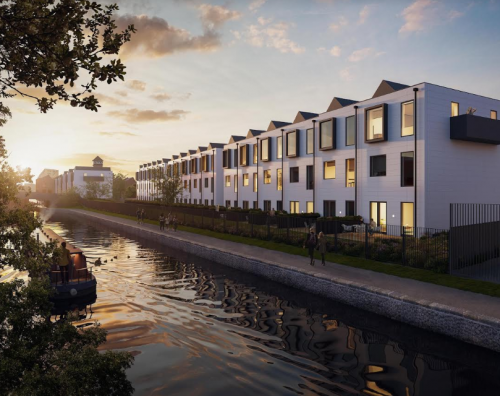 Regeneration company Urban Splash is launching a new phase of its modular town houses at New Islington in Manchester.
The firm has been granted planning permission for 17 new customisable family homes.
The town houses will be launched for sale on Piercy Street on the North Eastern end of the New Islington neighbourhood, close to the Urban Splash Stubbs Mill and Chips buildings.
Each of the homes will be made at the House by Urban Splash factory in Alfreton in the east Midlands.
Blueprints for each will be determined by customers who will have the opportunity to command the design and layout of their three-storey, 1500-sq ft properties, resulting in bespoke dwellings with hundreds of personalisation options.
Four of the homes will be affordable, whilst all of the properties will come with parking and a private residents garden.
The first House by Urban Splash Town Houses launched at New Islington in 2016 – the maiden location for the concept.
All 43 homes were immediately sold, completed and occupied that year, with interest and demand remaining strong ever since.
Urban Splash director of residential Guy Ackernley explained: "In 2016 we unveiled our modular, modern housing proposition to the market, with much intrigue amongst customers keen to understand how they could tailor their own home.
"The residents already living in the existing Town Houses have completed their 'Grand Designs', and this new phase gives more buyers the opportunity to not only realise that dream, but to also own a family home, with parking and a garden in Manchester City Centre."
The homes are one of the final phases at New Islington, an area which Urban Splash and its partners – including Manchester City Council and Manchester Life – have been transforming since the early 2000s.
It has been completely regenerated into the city's 'most promising area', with a marina, park, Metrolink service, the OFSTED-outstanding free school, hundreds of homes and excellent amenities including the much-loved Pollen Bakery.