Energy specialists combine on hydrogen fuel cell development programme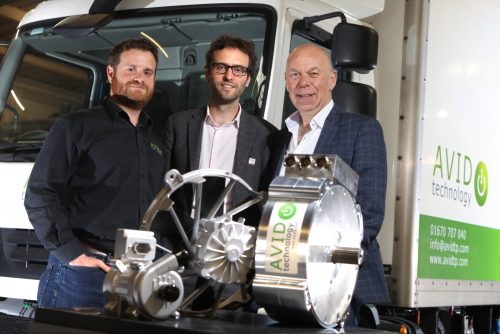 A partnership of energy specialists, including a Merseyside firm, are working on a scheme to develop new hydrogen-based technology.
Hydrogen and fuel cell system engineers Arcola Energy, which operates a manufacture and support facility in Huyton, automotive clean tech firm AVID Technology and global power management company Eaton, are working on a UK government-sponsored programme to develop battery and hydrogen fuel cell powertrains for zero emission commercial vehicles.
The zero-emission sub-systems will be available separately, or as optimised, fully-integrated powertrains for battery electric and hydrogen fuel cell electric vehicles.
The full system will be integrated into a heavy goods vehicle as a unique zero-emission powertrain demonstrator.
The project is led by Arcola Energy, which will continue the development of its hydrogen and fuel cell powertrain integration capabilities with systems developed for bus and truck applications.
AVID and Eaton will collaborate to pair AVID's power-dense EVO-brand electric motor with Eaton's four-speed medium-duty electrified vehicle transmission to create an integrated motor drive for electric commercial vehicles with best-in-class efficiency and power density.
The collaboration is supported and partly-funded by the Advanced Propulsion Centre, which aims to develop a leading position for UK businesses.
The project represents a unique partnership between established global Tier 1 suppliers and UK technology companies.
Ben Todd, Arcola Energy chief executive, said: "This project brings together a powerful combination of hydrogen, fuel cell, battery, electric machine and drivetrain capabilities from recognised leaders in their respective fields.
"The outcome will be a compelling offer to vehicle manufacturers – fast, low-risk, high-quality, cost-effective approaches to electrifying their fleets, whatever their fuelling preference – plugin, hybrid or hydrogen."
Ryan Maughan, managing director at Avid, said: "It is a pleasure to be working with Arcola and Eaton on this programme.
"We hope that by developing a much more efficient, integrated electric drive unit using AVID's cutting edge motor and electronics technology, and Eaton's multi-speed transmission expertise, we can help to significantly increase market uptake and functionality of battery electric and fuel cell electric commercial vehicles, both of which have an important role to play if we are to decarbonise the heavy-duty sector."
eff Lowinger, president, eMobility, Eaton, said: "We're pleased to be able to adapt our innovative electrified vehicle transmission to AVID's line of efficient motors to create an industry-leading solution.