People on the Move: Alexander Knight & Co; Liverpool LEP; Paragon; Scotframe; ADT Workplace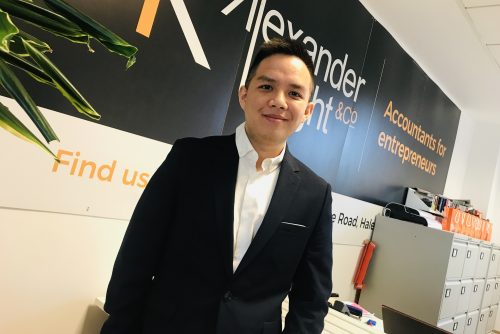 Alan Su has joined Hale-based accountants Alexander Knight & Co as an assistant accountant.
Alan qualified with a first class honours degree in Accounting & Finance from the University of Huddersfield in 2018.
He has also worked in the accounting and admin team at Lip Hing Metal Manufacturing, the international wholesale business in Trafford Park.
Alan will play a key support role to the wider team in delivering audit, accounts, bookkeeping, payroll and VAT services.
He was born in Guangdong province in China and speaks fluent Cantonese. He arrived in the UK aged six and attended Xavierian College in Manchester.
Murray Patt, founder of Alexander Knight & Co, said: "We are delighted to formally welcome Alan to our team.
"He is a very welcome addition and he has already accrued good experience client side. He showed great initiative in contacting us directly and we are always keen to hear from good people in the accountancy profession.
"We look forward to him continuing his journey, securing his professional qualifications here at our practice and enjoying a career with Alexander Knight & Co."
::
Liverpool City Region Local Enterprise Partnership (LEP) has strengthened its main board and its manufacturing and health & life science boards with the appointment of 11 new board members to help drive forward the city region economy.
The new members on the main board are: Laura Pye – director of National Museums Liverpool, as visitor economy champion; Dr Liz Mear – chief executive of the Innovation Agency, as health and life sciences champion; and Mike Hulme – director of Alstom Transport UK, as advanced manufacturing champion.
The LEP board provides strategic insight and guidance to the Combined Authority on the economic challenges and opportunities facing the city region, and each board member provides expertise in their field to help drive forward a key growth sector.
On the appointments, chair of the Liverpool City Region LEP, Asif Hamid, said: "We have had incredibly strong interest in these positions which allowed us to appoint really high calibre individuals who each have their own area of expertise and bring a wealth of experience.
"I am delighted that eight of these appointments are women, demonstrating the quality of female leadership we have in our city region. We know that increasing diversity on boards brings huge benefits for organisations and I look forward to working alongside these new board members."
Dr Liz Mear said: "The health and life sciences industries are a major employer in our region and contribute massively to the region's economy.
"I'm delighted to have been appointed as their representative for the LEP board and look forward to collaborating with colleagues from other sectors of the economy to increase investment and visibility across the region."
Laura Pye replaces Sara Wilde-McKeown, who was chair for five years. During those years she successfully delivered the visitor economy investment strategy, reshaped the board to be private sector-led, and secured investment for the city region.
Laura said: "Taking this role leading the visitor economy board is an opportunity to steer this important sector and use the many assets this region has to the absolute maximum. Of course, there are challenges ahead, with many different organisations having a role to play and the need to work together is more important than ever."
To meet the requirements from a national LEP review, the Liverpool City Region Combined Authority (CA) and local authorities agreed that the three public sector representatives who will sit on the board are the Metro Mayor, Steve Rotheram, the CA portfolio lead for skills and education, Mayor Joe Anderson, and the CA portfolio lead for inclusive economy and the third sector, Cllr Pat Hackett.
The new 'Making It' board members are: Madina Barker, managing director of CNC Robotics; Alan Norbury, the chief technology officer of Siemens UK; Rowan Egan, the chief executive of the Northern Automotive Alliance (representing the automotive sector in the North of England); Dr Rebecca Chandy of Hope University Management School; and Michelle Dow, managing director of All About STEM, an organisation specialising in STEM engagement for schools.
The new members of the health and life science board are: Richard Ryrie, consultant scientist, Elanco Animal Health; Dr Liz Bishop, chief executive, Clatterbridge Cancer Centre; and Hayley Citrine, chief executive, The Walton Centre.
::
Manchester-based building and project consultancy Paragon has further strengthened its leadership team in the North West by promoting an experienced building surveyor and project manager to director.
Simon Long joined Paragon four years ago after the consultancy opened its Manchester office in 2015. Prior to this he spent 10 years at Colliers International, also based in Manchester.
Starting with just two directors, Paragon now employs 20 people based at the Freetrade Exchange on Peter Street in the city centre.
During his time at the consultancy Simon has led on growing Paragon's fund monitoring service and presence in the healthcare and assisted living sectors.
His key clients include Oxenwood Real Estate, Kennedy Wilson Europe, Wittington Investments, Castleforge and Alpha Real Estate.
As a director Simon will continue to deliver a range of building surveying, fund monitoring and project management services, while also being responsible for driving the Manchester office's continued expansion plans.
Simon said: "I have really enjoyed the opportunities presented to me since joining Paragon. We have built a strong client base and proven ourselves to be a leading force in the region. This is an exciting time to be a director."
Simon is the Paragon's third Manchester-based director alongside head of office, James Onions, and Robert Simpson, who both also joined from Colliers in 2015 to spearhead its North West presence.
James Onions said: "Simon has been integral to the growth and success of our Manchester office. His insights and advice are valued by both colleagues and clients, and he has built an excellent reputation for helping clients achieve their commercial objectives.
"Many opportunities that Paragon has secured in recent years would not have happened without Simon's expertise and focus on client service. This promotion recognises his dedication and hard work."
Paragon has additional offices in London, Esher, Edinburgh and Bristol. It boasts a turnover of £22m and employs nearly 200 people.
::
Scotframe, one of the UK's largest offsite timber frame specialists, has appointed Danny Johnson to the new role of business development manager for the North of England in response to growing demand for timber frame homes in the region and across the UK.
Danny has enjoyed a successful 15-year career spanning customer service and business development roles, most recently with a smaller timber frame operation.
From his Manchester base he will focus on supporting Scotframe's private and commercial self-build customers with planning and managing the construction of their homes and premises, and securing an even larger slice of the self-build housing market in the North of England.
He said: "Scotframe have a growing reputation for design and architectural excellence combined with superb customer service. I am very much looking forward to supporting their ambitions to grow their customer base as well as spreading the word about the many benefits of offsite timber frame construction. The importance of sustainability and energy efficiency is really striking a chord with people."
Malcolm Thomson, sales director at Scotframe, said: "Danny's experience in the timber frame sector and his strong background in customer service means he will be a great addition to our team.
"Currently Scotland leads the way in timber frame construction, with 83% of new-build homes in Scotland using timber frame, compared to just 23% in England.
"However, the market share for timber construction in England is steadily rising and Danny will play an important role in developing Scotframe's offering south of the border alongside Scotframe colleagues in other parts of the country."
Based in Inverurie, Scotframe says it is an industry leader in the supply of full kit packages for housing and commercial projects. Established in 1989, the company has 192 employees and a £36.5m turnover. It has manufacturing facilities in Inverurie and at Cumbernauld, plus sales offices and showrooms at Inverness, Dundee and Swindon.
Scotframe was acquired by Saint-Gobain – a global group with 18,000 employees in the UK alone – in November 2017, a move which it believes will help accelerate its expansion into English markets.
::
Manchester-based commercial interior design, build and delivery specialist, ADT Workplace, has significantly strengthened its leadership team with the appointment of Adrian Gleeson to the newly-created role of strategy director.
His appointment marks a significant addition to ADT Workplace's senior team and reflects the company's continuing commitment to providing first-class consultancy to its clients.
An industry heavyweight, Adrian brings a wealth of experience to his new role having most recently worked for TSK Group where he was director of business development.
In his new role Adrian will be responsible for developing and driving the business strategy for ADT Workplace, including collaborating with the rest of the senior team to help execute the company's vision and ambitious growth plans.
Adrian will also lead on business development, working with the current business development team to embed new approaches and reach new markets.
"I'm extremely proud to be joining the ADT Workplace team at what is such an exciting time for the company," he said.
"Over recent years the team has delivered some of the most inspiring and unique work spaces I've seen, so I'm thrilled to join such a talented and experienced team."
ADT Workplace managing director, David Clemetson, said: "We were looking to strengthen our senior team with someone who could not only help us ensure we offer our clients the high quality services and consultancy they need, but also support us in shaping and delivering our future business vision.
"With his undisputed experience and enviable status within the industry, Adrian was the perfect candidate for this role. With a proven track record in developing outstanding client relationships he is ideally placed to help take ADT Workplace forward and I'm confident he will be a valuable addition to the team."