Developer acquires Knowledge Quarter plot for key worker and student homes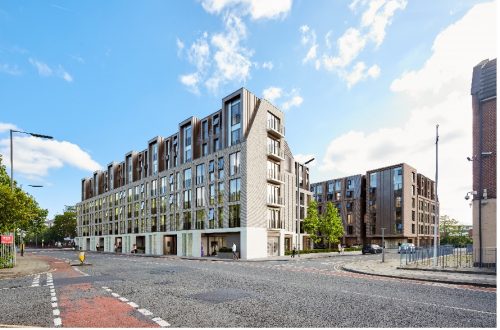 Liverpool-based developer Elliot Group has acquired a 0.53 hectare site on Crown Street on the edge of the city's Knowledge Quarter for a development of 106 key worker homes and 182 student bedrooms.
The site currently hosts a former church and a probation centre, both now closed.
It was acquired with vacant possession at auction and sits within the largely Georgian Canning Street conservation area.
The proposed scheme, designed by the Liverpool studio of Falconer Chester Hall, will comprise two blocks rising up to six storeys fronting Crown Street and Falkner Street, stepping down to five storeys at the interface with Chancellor Court.
The development is subject to planning permission and pre-application discussions are already under way. Zerum is acting as planning consultancy.
"It's a perfect location, on the edge of the Knowledge Quarter and around the corner from the women's hospital," explained Elliot Group head Elliot Lawless.
"It's a quiet and established residential area but with great amenities nearby.
"Paddington Village is at the end of Crown Street and we can expect to benefit from that as all the new workspace fills up."
Crown Street was the home of the world's first passenger railway station, opened in 1830 by the Liverpool and Manchester Railway Company.
It was considered too far from the commercial centre at the time and tunnels were cut through the Edge Hill escarpment to Lime Street, where the new station opened just six years later in 1836.
The former station is now a park, which the corner of the site overlooks.