Media consultancy relocates, along with one-ton vintage phone box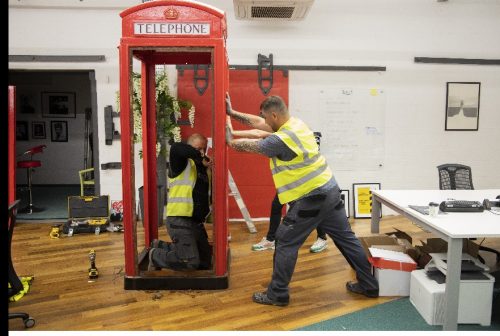 K7 Media has relocated its Manchester Office from Dale Street to Ducie House in the city's Northern Quarter.
The move was made more complicated by the international media consultancy owning a 1930's phone box.
Standing at nearly 8ft tall and 3ft wide, the phone box does not fit through conventional doors, nor can it be lifted by less than eight people.
Weighing almost a ton, the cast iron structure was originally placed in the business's old Dale Street office through a now-defunct trade lift. Rather than leave the phone box in place, K7 Media enlisted experts to take the structure down piece-by-piece to be rebuilt in the new office space.
Taking over 36 hours in total, the process saw the phone box broken down into 18 panels, with some including up to 27 panes of glass.
Once dismantled, each section was carefully removed and transported the short distance to the new office space before being pieced back together and receiving a fresh coat of paint.
K7 Media's founder and chief executive, Keri Lewis Brown, said: "The phone box is not only quintessentially British but it is also a symbol of communications and we really wanted to keep it.
"It stood in our old office for over five years – there was no chance we were going to leave it behind, even if it did mean having to break it down into pieces so we could get out of the door."
The company had originally sought to source a K7 model but settled on the popular K6 model when they learned the K7 model never made it past prototype stage.
K7 Media offers bespoke research services to broadcasters, streaming platforms, distributors and production companies across the world.