Manchester poised for house price boom – according to report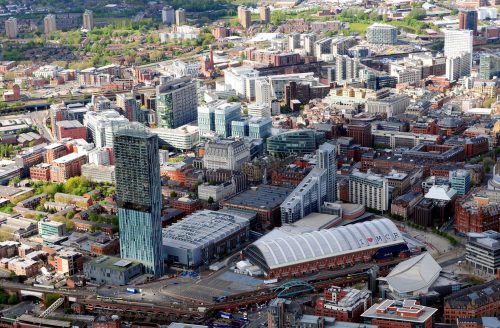 Manchester is forecasted to have the highest sales prices and rental growth of any city in the UK over the next five years.
According to new research from real estate consultancy JLL, the 'big seven' regional cities – Manchester, Liverpool, Leeds, Birmingham, Bristol, Glasgow and Edinburgh – are poised for growth thanks to the UK's renewed economic and political certainty.
The economic boost is set to lay foundations for significant regional growth and will drive price increases in housing markets – with Manchester identified as a hotspot, according to the 'Living With 2020 Vision: Regional Residential Forecasts' report.
The city's population growth and robust job market have been cited as key reasons, with its digital, creative and media industry fueling growth in the region. According to the research, Manchester's economy will grow faster than any UK city – and, in turn, house prices in the city are expected to rise in tandem.
Louise Emmott, head of residential agency and development for the north at JLL, said: "We predict that Manchester's market will see the highest increase in house prices across the next five years.
"Manchester is unique in that it offers residents a truly 'big city' feel, but on a scale which is manageable and, currently, affordable. The brilliant tech, creative and media industry – supported by landmark developments like MediaCityUK in Salford, and the emerging Enterprise City in the St. John's neighbourhood – mean that job prospects here are plentiful and are appealing to a younger demographic."
This is reflected in the report, which states that Manchester's population aged 15-34 sits at 40% – higher than all other regional cities and higher too than London's, at 30%.
Louise continued: "Central Manchester has an enduring appeal, and we're seeing more people choose to live in the city centre all the time. This has led to an exciting pipeline of residential development; there are a number of build-to-rent schemes scheduled for completion over the next two years, and we believe the rising rents reflect both heightened demand and a better quality of stock."
The report predicts a slow in the number of private for-sale units delivered in Manchester over the next three years, which is expected to facilitate higher sales prices in the city.
Currently, the average sale price of a two-bedroom flat in Manchester is £257,000, and a flat of the same size rents out for £1,145pcm. The projected sales price increase of 17.1% is notably higher than the UK average of 14.8%, despite London having a significantly higher volume of development.
Between 2020-2024, JLL's Living With 2020 Vision research has forecasted that Manchester's GVA will grow by 2.7%; its employment level by 1.3%; and its population by 1.1%.