Trafford Centre owner could call on Government for financial support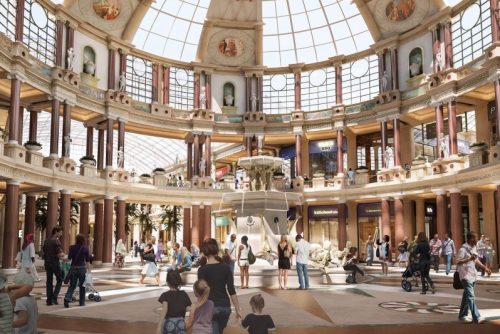 Shopping centre group Intu said it might have to resort to seeking government support during the COVID-19 crisis.
So far, it has only received a third of rent for the second quarter of the year, compared with 77% at the same time last year.
In an announcement this morning it said all its sites are now operating on a semi-closed basis in response to the rapidly-evolving COVID-19 crisis.
The owner of the Trafford Centre and the Arndale Centre said its three priorities are to look after its employees, to protect its business and to play its role in society.
Accordingly, all its centres in the UK and Spain are operating on a semi-closed basis. In line with the latest Government advice in both countries, only essential stores, such as supermarkets, pharmacies and banks, remain open.
Rent for the second quarter of the year in the UK was due on 25 March (the quarter day) and it has received 29% of this.
Intu said it is in discussions with customers on the outstanding rents. For the same period last year, it had received 77% on the quarter day.
The group made losses of more than £2bn over the past 12 months, it revealed on March 12.
As at 24 March 2020, it had immediately available cash and facilities of £184m at the corporate level.
The impact of COVID-19 in Europe is delaying certain regulatory approvals in relation to the disposal of intu Puerto Venecia and it now expects the £95m proceeds to be received in the middle of May at the earliest.
Intu has significantly reduced capital expenditure for the foreseeable future and is cutting back on head office costs to maintain additional cash within the business.
In addition, to support customers, it has initiated a programme of reducing non-essential service charge costs and is passing on these savings to them.
The reduced social activity is likely to continue for the foreseeable future impacting footfall and potential future rents.
The impact of the reduced rents received is expected to require Intu to seek covenant waivers and it said it is in constructive discussions with the relevant lenders.
In addition to the immediate actions it has taken to preserve liquidity, it said has an ongoing dialogue with the UK Government and may look to access its £330bn support package.
Intu said: "In their recent announcement for the protection of commercial tenants from the non-payment of rent, they also stated that they are actively monitoring the impact of this on commercial landlords' cash flow.
"Other Government measures announced of business rates suspension, employee cost support and tax payment deferrals, are also expected to have a positive impact."
It added: "Given the ongoing uncertainty around COVID-19, we are no longer able to provide guidance in relation to the 2020 financial year.
"In these difficult times we continue to assess all strategic alternatives and will provide further updates as appropriate."
Meanwhile, Cumbria marine services group James Fisher said this morning that it will suspend payment of its final dividend for the year ended December 31, 2019, until further notice as part of its plans to mitigate the effects of the crisis.
It said, while group trading in the first two months of 2020 is ahead of the prior year, the potential impact of COVID-19 is difficult to predict with any degree of certainty.
Given this position, it has proactively taken steps to reduce costs, to optimise cash flow and to protect liquidity.
These actions include the deferral of discretionary capital expenditure, a hiring freeze, and, with effect from April 1, the salaries and fees of each member of the James Fisher Board will be reduced by 20%.
In addition, the board has decided that the final dividend of 23.4p per share should be suspended until further notice. It said the group will continue to monitor the developing situation and further actions will be taken as necessary.
It added that the group has a strong balance sheet and good liquidity.
Excluding IFRS 16, net debt at December 31, 2019 was £203m, with around £42m of headroom. In addition, the group signed a new £30m revolving credit facility on March 20.
Today's announcement said the group will provide a further update at its AGM to be held on April 30.