People on the Move: Electricity North West; Trowers & Hamlins; CNC Robotics; SimpliSafe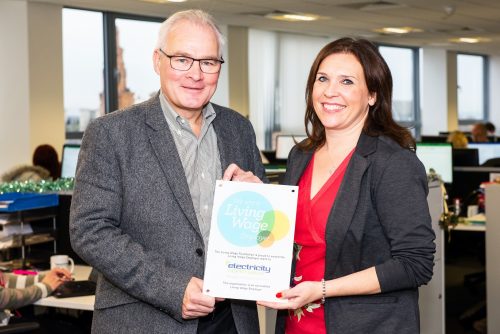 Electricity North West has made a new appointment to its executive leadership team.
Rachael Parr has made the step up from head of human resources to become the firm's new human resources director with immediate effect.
The newly-created role will see Parr continue to carry out many of her current duties, while also sitting on Electricity North West's executive leadership team, meaning she will play a major role in many key company decisions.
Chief executive Peter Emery said: "Since joining in 2016, Rachael has demonstrated real strategic insight and an ability to successfully work cross functionally at senior level in addition to her proven capabilities in human resources.
"Rachael's appointment further strengthens our senior team at a critical time for the business as we work to keep power flowing and keep our people safe during the current situation."
Boasting experience with Manweb, Coop Financial Services and First Recruitment, where she was operations director, Parr joined Electricity North West in 2016 and became head of human resources in 2018.
She has played a key role in Electricity North West becoming a Real Living Wage employer and leading the business to become one of the first six companies to join the Greater Manchester Good Employment Charter.
She said: "I'm delighted to be a part of Electricity North West's executive leadership team, particularly at such a critical time for our people in the current situation.
"The business plays such an important role in the region, from keeping power flowing, managing incidents and planning for the low carbon future as we all use more electricity. Our people are key to delivering our ambitious plans and I'm looking forward to providing strategic leadership."
::
International law firm Trowers & Hamlins has recruited partner Danielle Ingham to its employment and pensions team.
Danielle will be based at the firm's Manchester office and will work with the team at a national level.
She is a commercial employment specialist with experience of advising a wide range of national and regional corporate clients and senior-executives. Danielle's practice covers the full breadth of employment law issues, including litigation, strategic advice and commercial transactions.
She was also named as a Rising Star in this year's edition of Legal 500 and joins the firm from Shoosmiths Manchester, where she led the employment team for more than four years.
Emma Burrows, partner and head of employment and pensions, said: "We are really pleased that Danielle has joined our employment and pensions team.
"She brings great experience to our national team, allowing us to enhance our Future of Work programme for both existing and new clients across the UK and particularly with companies in the North West."
Danielle added: "This is an exciting time for Trowers & Hamlins, with ambitious growth plans working innovatively with businesses as they adapt to the ever-changing climate.
"I'm looking forward to working with such a reputable nationwide employment and pensions team and in playing a key role in the continued development of our expertise across the North West and beyond."
::
CNC Robotics has appointed former Delcam and Autodesk director, Bart Simpson, as the company's non-executive chairman.
In this role, Bart will support and advise the existing leadership team as they continue to drive the strong growth that CNC Robotics says has made it the UK's leading robot integrator specialising in machining applications.
Bart joined Delcam in 1993 as a support engineer in 1993, after gaining a BEng in aeronautical engineering at Salford University.
He transferred to the company's marketing department in 1997 and was appointed marketing director in 2000. Promotion to the Delcam group main board, as commercial director, followed in 2008.
Following the acquisition of Delcam by Autodesk, Bart was appointed senior director, operations, within Autodesk's advanced manufacturing group.
He played a key role in the integration of Delcam into Autodesk and in the transition of the new group's sales channel to an SaaS model.
Jason Barker, founder and chief technical officer at CNC, said: "I am delighted to welcome Bart to the company. I have known him since I began using PowerMill Robot machining software to programme my earliest robot-machining projects.
"He brings with him a wealth of commercial and marketing experience, as well as an extensive range of contacts in the manufacturing business."
Bart said: "With the current drive to increase automation, including the use of robots, across many areas of UK manufacturing, CNC Robotics has a great future. I look forward to helping the company continue its success in providing robots for many kinds of machining applications."
::
Manchester-based home security brand, SimpliSafe, is expanding with three new hires across the marketing team.
The team growth comes as the business looks to build on its successful first year after being set up as a wholly-owned subsidiary of SimpliSafe Inc, the US home security giant.
Nicola Richardson-Critcher has been appointed as SimpliSafe's UK senior CRM manager where she will devise and oversee the brand's CRM strategy.
Nicola brings with her a wealth of knowledge, from kick-starting her career at newspaper group, Trinity Mirror, and price comparison site, MoneySupermarket, to more recently being head of CRM at global fintech business, Quint Group, where she managed the group's multi-brand CRM strategy.
Nicola's specialism in building strategic CRM functions from the ground up will be a significant pillar in delivering SimpliSafe's growth in the coming years.
Working alongside Nicola, Daniel Teebay has been appointed as senior CRM executive.
Daniel also joins from Quint Group, where he delivered multi-channel campaigns across the UK, USA, Australia and Poland.
Previous to this, he also has experience working at ActiveWin Media and Betfred, specialising in CRM retention strategy campaigns. At SimpliSafe, Daniel will manage the brand's day-to-day CRM activity and campaigns.
Oli Moore has been appointed as SimpliSafe's first dedicated paid media manager.
Oli joins from American Golf where he was the digital marketing manager, handling the brand's PPC, paid social and affiliate partnerships.
Previously, he spent three years at JD Sports where he started his career in PPC after graduating university. At SimpliSafe, Oli will be overseeing the brand's PPC and paid social strategy for the UK market.
Andrew Thompson, head of brand marketing UK, said: "We are thrilled to introduce three new hires in SimpliSafe's marketing team, especially during these uncertain times.
"As a business, we are lucky to be able to work from home and it's certainly an interesting way of introducing new employees to the brand and getting them up-to-speed on their role.
"Manchester is filled with great talent and Nicola, Daniel and Oli bring with them a wealth of knowledge as well as working with amazing local brands including JD Sports, MoneySupermarket and Betfred. The trio are settling in great and already helping to bolster activity across the marketing channels."
He added: "Although things can seem a little unclear at the moment, we are working hard to keep the team engaged, from hosting daily marketing meetings and weekly all-UK employee meetings to a weekly 'pub' quiz on a Friday."